Flip on one of those grainy, black-and-white films of Americans having warm-weather fun at the start of the last century, and you'll see them rushing the gates of an amusement park, or milling around under the lights of a penny arcade. Flash forward 100 years and only one of those businesses is still going strong—and it's not the one you'd expect. As summer vacations and family trips approach, Americans trying to decide what to do with the kids will discover that some of the local attractions they took for granted are no longer an option.
If there's any enterprise that should have been extinguished by the ubiquity of smartphones and fast Internet connections, it might be charging people to play arcade games a couple of quarters at a time. Yet for those of you who miss the old stand-up games of Galaga and Defender, there were more "amusement arcades" in 2014 than in 1998, according to the Census Bureau.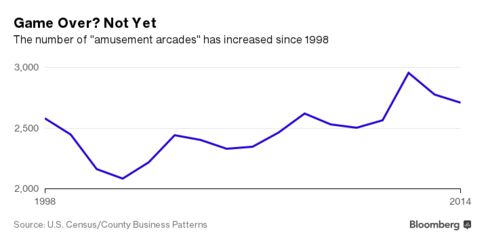 Meanwhile, the amusement park has been on a roller coaster ride for two decades, one that—as the chart shows—is fundamentally headed downward. In some years, more parks opened than shut, but the small upticks have been wiped out by the near-regularity of a free fall. There were 48 percent fewer amusement parks in the U.S. in 2014 than in 1998.
Among these, the smaller parks which depend on local or regional customers, and often just during summer, are having the hardest time. Even such a well-loved brand as Lego met industry skepticism as it seeks to build a chain of regional parks. On the other hand, huge amusement and theme parks that double as vacation destinations are still going strong. And because they hire a lot of people and keep them working all year round, the number of workers employed is up by 25 percent, even as the number of amusement establishments has fallen by half.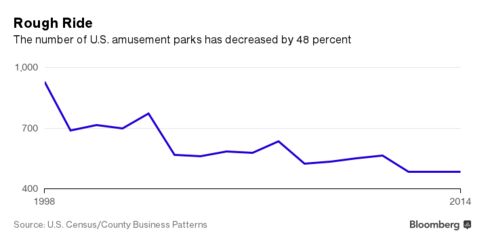 Still, if Mickey Mouse's allure can explain the amusement park industry, what's the story behind the persistence of the video arcade? There's no clear answer in census data. One theory is that the business reached its zenith in the late 1970s and early 1980s (before game consoles invaded American households), when a bulky box at your local arcade was the only way to play Asteroids or Donkey Kong. Now that we've gone many steps further, and augmented reality has turned your local public park into a Pokemon gym, there may be a market for the simpler pleasures of Pac-Man, if not one for the even simpler pleasure of an amusement park ride that turns your stomach upside down.
Before it's here, it's on the Bloomberg Terminal.
LEARN MORE