Russia Credit Risk Jumps Amid Flare-Up in Ukraine Tension: Chart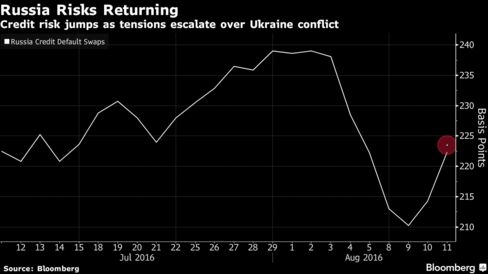 The cost of insuring Russian debt against default climbed the most in five weeks as tensions escalated with Ukraine after President Vladimir Putin accused Ukrainian agents of engaging in "terror" tactics in Crimea. His counterpart in Kiev put troops on high alert in the Ukraine's easternmost region after warning that the former Soviet ally was seeking to reignite conflict in the disputed territories. Russia's annexation of the Black Sea peninsula in 2014 led the U.S. and Europe to impose sanctions that helped send the economy into recession.
Before it's here, it's on the Bloomberg Terminal.
LEARN MORE