Merkel Party's Support Drops Ahead of Two State Votes in Germany
Merkel's CDU, Social Democrats may struggle to rule together

Anti-immigration AfD polls as high as 19 percent after attacks
Support for Chancellor Angela Merkel's party declined in two German states holding elections in September after attacks and a shooting spree last month fueled voter anxiety about terrorism and depressed her approval rating.
Backing for Merkel's Christian Democratic Union fell to 23 percent in Mecklenburg-Western Pomerania, the eastern region on the Baltic Sea where the chancellor has her electoral district, according to INSA polls for Bild newspaper published Friday. That compares with 25 percent in an Infratest poll in late June and suggests the CDU lost its previous lead over the state's governing Social Democrats.
In Berlin, the capital and a city-state in its own right, the Christian Democrats declined to 18 percent from 19 percent in an INSA poll a month earlier. Mecklenburg votes on Sept. 4 and Berlin goes to the polls two weeks later.
Thirteen months before Germany's next national election, the polls underscore the risks of Merkel's open-borders refugee policy and that voters may blame her for a perceived erosion of public safety. Merkel's approval rating slumped 12 percentage points to 47 percent last week in the first such poll after four attacks, three of which involved asylum seekers. Authorities linked two of the assaults, an ax attack on a train and a suicide bombing at a festival, to Islamic State.
Both states in play next month are governed by the Social Democrats, whose poll numbers also declined. That means they and Merkel's party, the junior coalition partner in each region, may lack the votes to renew their alliance. That probably won't be the anti-immigration Alternative for Germany, which polled 19 percent in Mecklenburg-Western Pomerania and has been shunned by mainstream parties.
The AfD is "on a good way," pulling in disaffected voters "from all parties," Georg Pazderski, the party's top candidate in Berlin, said in a Bloomberg Television interview Tuesday. Germany's refugee influx and security are among the reasons, he said.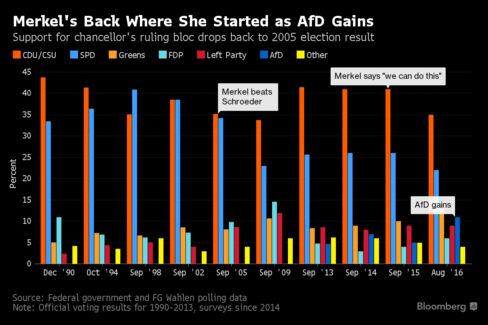 Before it's here, it's on the Bloomberg Terminal.
LEARN MORE