Chile and Peru Keep Rates Unchanged as CPI Slows on Weak Demand
Both countries raised rates last year to curb price pressures

Investment is set to rebound in Peru as Chile's growth stalls
Chile and Peru kept borrowing costs on hold as sluggish domestic demand and slowing inflation reduces the need for further tightening.
Policy makers in Chile maintained the benchmark rate at 3.5 percent for an eighth consecutive month on Thursday while in Peru they held the key rate at 4.25 percent for a sixth straight month. Both decisions matched the forecasts of analysts surveyed by Bloomberg.
Inflation is near the top of policy makers' target bands in both countries and analyst expectations are for price growth to continue given weak investment and rising unemployment.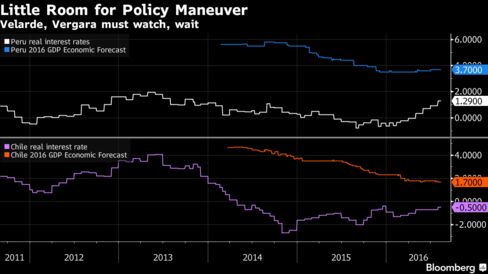 Chile removed the tightening bias from its communique as economists forecast the first economic contraction in six years, while Peru took out its reference to being ready to consider "additional" adjustments to the benchmark rate, after four increases in the last year. Inflation is near the top of policy makers' target bands in both countries, giving them time to gauge the strength of their economies, said Edward Glossop, an analyst at Capital Economics Ltd in London.
"While we expect rates to remain unchanged for a while longer in Chile, we don't think it will be long before rates are raised further in Peru," said Glossop said by e-mail before the decisions.
Slack Demand
In its communique, Chile's central bank removed wording that referred to the potential normalization of rates to slow inflation, after price-growth eased to 4 percent in July, the top end of its target range, for the first time this year. Economists surveyed by the bank now expect only one rate increase in the next two years as the economy endures its third year of sluggish economic growth and the unemployment rate begins to climb.
In Peru, companies' optimism about the economy is at the highest level in more than three years, boosting their expectations for hiring, according to the central bank's monthly survey. President Pedro Pablo Kuczynski has pledged to reduce delays to large infrastructure projects and roll out a $15 billion program to boost water and sanitation coverage.
"The bank remains vigilant of projected inflation and its determinants in order to consider adjustments to the benchmark rate," Peruvian policy makers said in their statement.
Inflation will remain close to the top of the target band in the coming months before falling to 2 percent at the end of next year, they added. Peru targets inflation in a range of 1 percent to 3 percent.
Before it's here, it's on the Bloomberg Terminal.
LEARN MORE