Jamaica Eyes Escape From 'Unhappy Cycle' of Debt, Low Growth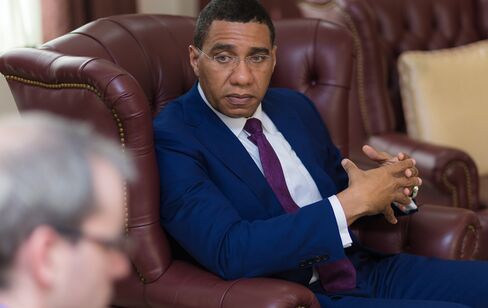 PM Holness targets fastest growth rate since the 1980s

Caribbean nation hampered by debt level among world's highest
Jamaica's new government is betting that a more business-friendly public sector, fiscal discipline and Chinese-funded highways can help the island break out of what the International Monetary Fund has called "an unhappy cycle of high debt and low growth".
After decades in which Jamaica lagged neighbors such as the Dominican Republic, Panama and Costa Rica, the government of Prime Minister Andrew Holness, which was elected in February, is targeting an annual growth rate of 5 percent within four years. If achieved, that would be the fastest economic expansion since the 1980s.
"There are many perspectives as to why the economy is growing slowly or not at all, but one that I'd like to focus on is this environment that the public sector creates for the private sector to operate," Holness, 44, said Wednesday in an interview in his Kingston office. "Growth is largely a function of firms- it really depends on how fast your private sector can grow."
As Jamaica nears the end of its four-year, $932 million IMF funding program, Holness said the country will seek a "new phase" in its relationship with the lender, focused on public sector reform. The government wants to work with the IMF on policies such as pension reform and speeding up the divestment of some government assets, Holness said.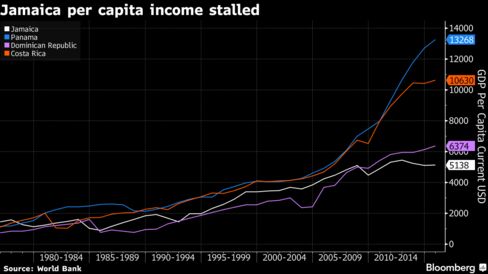 Debt burden
Debt will fall to 123 percent of gross domestic product this year, according to the IMF. That's down from a peak of 145 percent in 2012, though is still among the world's highest. Holness said the government is targeting a ratio below 100 percent by 2019, which would be more than twice the figure for the Dominican Republic, the Caribbean's biggest economy.
Jamaica is seeking to sell dollar bonds for the first time in more than a year this week, which Holness said was a move to take advantage of favorable market conditions.
"Where opportunities present themselves for us to engineer our finances in such as a way that we benefit from existing market conditions, we will do so," Holness said. "The Ministry of Finance has taken an opportunistic position which will result, I believe, in some reduction in our debt obligations as it relates to our interest payments.''
The country will issue dollar notes due in 2039 to yield about 7 percent, according to a person familiar with matter who asked not to be identified because the information isn't public. The proposed yield is about 1.2 percentage point above the average for similar-maturity bonds that share Jamaica's credit rating, according to data compiled by Bloomberg. The yields on Jamaica's dollar bonds maturing in 2028 have fallen 0.14 percentage points this week, to 5.48 percent.
Tourism
The economy will grow 2.2 percent this year, according to an IMF forecast, the fastest pace in a decade. Jamaica's improved growth in the years ahead will be led by tourism, as well as agricultural products such as cacao, bauxite and limestone mining, Holness said.
Analysts including the Royal Bank of Canada's Marla Dukharan have warned that Britain's vote to leave the European Union will hurt tourism-dependent Caribbean economies as British consumers pare back on tropical vacations. But it's also possible that some British tourists will now opt for Jamaica over European destinations such as Spain, Holness said.
Jamaica this month celebrated the 54th anniversary of its independence from Britain. The Brexit vote may even be positive for Jamaica's economy if it leads the U.K. to rekindle historic ties with the Commonwealth, Holness said.
The economy is also receiving a boost from billions of dollars of Chinese investment in infrastructure projects. These include the $600 million highway built with China Harbour Engineering Company, opened this year, which makes it possible for people living on the north coast to work in Kingston, on the south coast, according to a former Transport Minister. The government is also planning a $380 million highway to open up the east of the island, with funding from China's Exim Bank.
"China has a strategic interest in this region, and Jamaica has benefited from that," Holness said.
The government also believes the country can cash in on its proximity to the expanded Panama canal, by upgrading its ports to be able to handle the new, larger vessels, and providing logistics services and light assembly of products, Holness said.
Before it's here, it's on the Bloomberg Terminal.
LEARN MORE