Emerging Stocks Rise Sixth Day on Stimulus Outlook, Oil Rally
Petrobras paces Ibovespa gain; Colombian peso leads currencies

Developing-nation equities most expensive since May 2015
Emerging-market stocks advanced for a sixth day as investors bolstered bets that central bank stimulus will continue to support global growth and oil selling for the highest price in three weeks helped lift energy companies.
Petroleo Brasileiro SA helped push the Ibovespa to a 2.4 percent gain in Sao Paulo. Egypt's equity benchmark rose to a 13-month high after the nation reached an initial loan agreement with International Monetary Fund. Stocks in Turkey rallied 1.4 percent. The Colombian peso strengthened the most among developing-nation currencies. The real fell after the Brazilian Central bank purchased reverse swaps to weaken the currency.
The MSCI Emerging Markets Index added 0.5 percent to 907.60. The gauge has rallied 4.5 percent in the past six days as as dovish policies from central banks in Japan to the U.K. fuel risk appetite. Most traders expect the Federal Reserve to delay an interest-rate increase at least until early next year. The probability of a move by year-end is about 49 percent, futures trading indicates.
"Global appetite for all risky assets is improving," said Guillaume Tresca, a senior strategist at Credit Agricole CIB in Paris. "Though valuations are stretched, the fact remains that we don't expect big changes in the next one or two weeks."
Nine of the 10 emerging-market equity industry groups rose, led by financial and consumer stocks. Energy companies jumped 0.5 percent. Thursday's advance pushed the developing-nation equity benchmark's valuation to 12.6 times projected 12-month earnings, the highest in more than a year.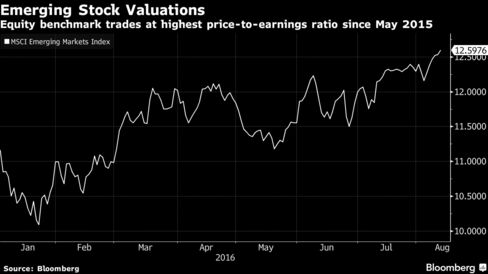 Brent crude jumped 4.5 percent to $46.04 a barrel in London. Oil prices rallied amid speculation that producers could agree on moves to support prices during talks next month.
The emerging-market equity benchmark has gained 14 percent this year. The MSCI World Index of developed-nation stocks has increased 4.4 percent and trades at a multiple of 16.4.
"Longer outperformance would need profitability to improve, but I think it's possible," said Hertta Alava, the head of emerging markets at FIM Asset Management Ltd. in Helsinki, who favors Russian equities. "If emerging-market GDP growth picks up in 2017, revenues should grow and profits even more."
Shares in Egypt climbed 1 percent, extending Wednesday's gain. The nation has reached an initial agreement with the International Monetary Fund over a $12 billion loan designed to help it revive its economy.
The Ibovespa rose to the highest since September 2014. Banco do Brasil SA gained 5.7 percent after it reported higher lending margins. Petrobras gained 4.7 percent.
Currencies
The Colombian peso rose 1.8 percent to the strongest closing level against the dollar since early May. The won weakened 0.5 percent after the Bank of Korea held its key rate at a record-low 1.25 percent and Governor Lee Ju Yeol said the central bank still had room to adjust policy.
"Governor Lee's comment that the BOK still has policy room reaffirmed its accommodative stance and the possibility of a rate cut in the near future," said Chung Sung Yoon, a currency analyst at Hyundai Futures Corp. in Seoul.
The South African rand lost 0.9 percent, its first decline in four days.
Ukraine's Eurobonds due 2026 retreated, sending yields up 12 basis points to 8.09 percent. President Petro Poroshenko ordered troops on the border with Crimea to go on "high alert" after warning that Russia is trying to escalate the conflict over the disputed peninsula. Russian President Vladimir Putin accused the former Soviet republic on Wednesday of engaging in "terror tactics" in Crimea and vowed to respond with "very serious" measures.
The MSCI Emerging Markets Currency Index was little changed near a 13-month high.
The premium investors demand to own emerging-market debt over U.S. Treasuries narrowed seven basis points to 340 after rising for the past two days, according to JPMorgan Chase & Co. indexes.
Before it's here, it's on the Bloomberg Terminal.
LEARN MORE