Banco do Brasil Profit Misses Estimates on Higher Provisions
Bank set aside 8.28 billion reais to cover souring loans

Bad-loan provisions led to miss at Banco Bradesco last month
Banco do Brasil SA, Latin America's largest bank by assets, said profit dropped 41 percent in the second quarter, missing analysts' estimates, as it set aside more money for soured loans. The bank cut its forecast for lending growth.
Adjusted net income declined to 1.8 billion reais ($576 million) from 3.04 billion reais a year earlier, the Brasilia-based lender said in a regulatory filing Thursday. That was below the 1.91 billion-real estimate of six analysts surveyed by Bloomberg. Net income dropped 18 percent to 2.47 billion reais.
Profit was hurt mostly by provisions related to "a specific case of the business segment of oil and gas," the bank said in the filing, without naming the company involved.
Brazilian banks have been struggling through the worst recession in more than a century, which is fueling bankruptcies and boosting bad-loan provisions. In April, oil-rig supplier Sete Brasil Participacoes SA sought protection from creditors on about 18 billion reais in liabilities, then the nation's biggest bankruptcy case. Two months later, telecommunication company Oi SA took the top position with a protection request for 65 billion reais in debt.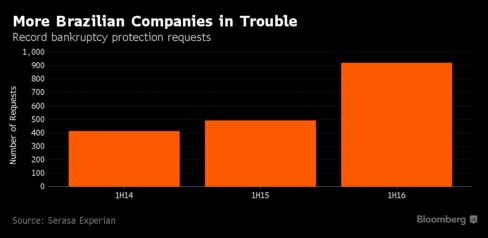 Banco do Brasil set aside 8.28 billion reais to cover souring loans in the second quarter, down from 9.15 billion reais in the previous three months and up from 5.19 billion reais a year earlier. The company said debt overdue more than 90 days climbed to 3.27 percent from 1.89 percent a year earlier, hurt by exposure to the oil and gas industry.
Corporate lending will decline 6 percent to 10 percent this year, compared with a previous forecast for growth of 1 percent to 4 percent. The 2016 forecast for the bank's total domestic loan portfolio was a range between a 2 percent contraction and a 1 percent expansion.
Banco do Brasil is seeking to sell assets to boost capital. Last week, it said it's studying with other shareholders the sale of their stakes in Buenos Aires-based Banco Patagonia SA in a public offering. The firm hired JPMorgan Chase & Co. to help sell the stake, according to a person with direct knowledge of the matter.
Earlier this month, Itau Unibanco Holding SA's second-quarter profit beat analysts' estimates on higher revenue from fees and commissions. Last month, Banco Bradesco SA, Brazil's second-biggest bank by market value, missed earnings estimates on bad-loan provisions.
Before it's here, it's on the Bloomberg Terminal.
LEARN MORE