Spanish 10-Year Bond Yield Falls Below 1% for First Time: Chart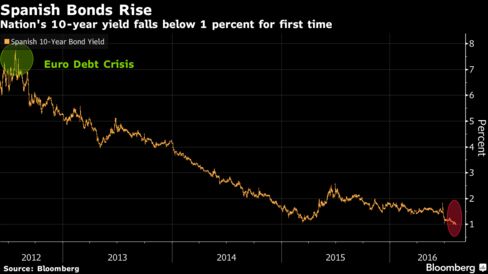 Spanish 10-year bond yields fell below 1 percent for the first time on record Monday, marking another milestone in the four-year rally in the nation's securities. The drop highlights how local political risk is being offset by monetary easing by central banks across the developed world. The yield fell to as low as 0.99 percent, down from more than 7.75 percent during the euro region's debt crisis in July 2012.
Watch Next: The Implications of Spain's Falling Bond Yields
Before it's here, it's on the Bloomberg Terminal.
LEARN MORE