Putin Said to Ban Ally Sechin's Rosneft From Bashneft Auction
Government says half of Bashneft worth as much as $4.7 Billion

Lukoil now leads list of eight companies expressing interest
President Vladimir Putin agreed to ban Rosneft PJSC, Russia's acquisitive state oil company, from bidding for the controlling stake in smaller producer Bashneft PJSC that the government plans to auction off as early as next month, according to two people with direct knowledge of the matter.
Putin rejected appeals from his longtime ally, Rosneft Chief Executive Officer Igor Sechin, to be allowed to bid, the people said, speaking on condition of anonymity. Rosneft, the world's largest publicly traded producer by output, argued that acquiring Bashneft would increase the value of the Rosneft that the government also plans to sell this year.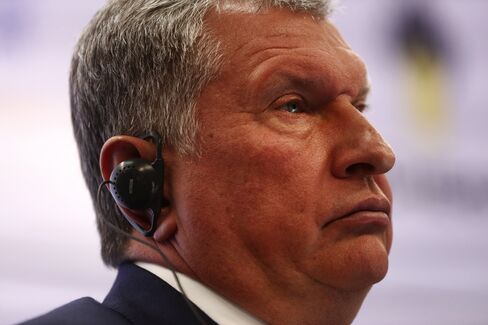 The Kremlin's press service said nobody was available to comment and Putin's spokesman, Dmitry Peskov, couldn't be reached immediately. A spokesman for Rosneft, Mikhail Leontyev, didn't respond immediately to calls and text messages seeking comment.
The sale of just over 50 percent of Bashneft, valued at as much as 315 billion rubles ($4.7 billion) in an outside assessment, will be Russia's largest of an oil company since Rosneft's $10.7 billion initial public offering a decade ago. Bashneft, based north of Kazakhstan in the Bashkortostan province, pumps about 425,000 barrels a day, or 4 percent of national output.
Deficit, Recession
Russia is disposing of assets to help plug a deficit after the collapse of crude prices sapped revenue and helped tip the economy into the longest recession since Putin came to power in 2000. The state raised 52.2 billion rubles last month selling a 10.9 percent stake in diamond miner Alrosa PJSC to investors.
Excluding Rosneft, eight companies have expressed interest in the Bashneft sale, led by Lukoil PJSJ, Russia's largest non-state producer, Interfax cited Economy Minister Alexei Ulyukayev as saying this week. The government is also aiming to raise at least 700 billion rubles this year selling 19.5 percent of Rosneft, which would cut its stake to just over 50 percent.
A government meeting headed by Prime Minister Dmitry Medvedev last month concluded that privatizations shouldn't be open to bids from state companies because that would run counter to the goal of reducing the government's role in the economy and encouraging private enterprise.
Russia nationalized Bashneft in 2014, seizing the shares held by Vladimir Evtushenkov's holding company AFK Sistema amid a money-laundering case against the billionaire that was later dropped. The state owns 50.08 percent.
Before it's here, it's on the Bloomberg Terminal.
LEARN MORE