Chinese Stocks Overreacted to Wealth Product Curbs, Analysts Say
Banks say most lenders still able to funnel money to shares

Bond market will gain from proposed WMP restrictions: BofA
China's stock investors may have overreacted to reports that regulators will restrict the flow of cash from wealth-management products into equities.
While news of proposed curbs on the $3.5 trillion WMP industry sparked a sudden plunge in shares on July 27, analysts digging into details of the plan are discovering that it isn't that bad for shares -- and will probably be good for bonds.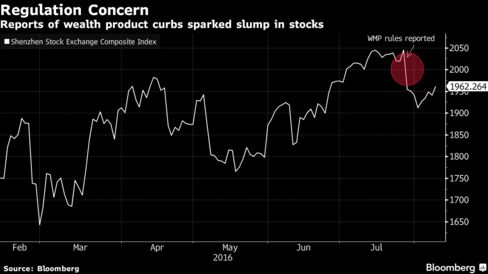 Under the reported WMP draft rules, lenders with less than 5 billion yuan ($751 million) of net capital or fewer than three years of experience with WMPs can only put the proceeds into lower-risk assets such as government bonds. Banks above these thresholds can invest in stocks and "non-standard assets" such as loans. UBS Group AG, Morgan Stanley and Bank of America Corp. say most lenders will meet the new criteria to buy shares.
"The amount of funds actually affected shouldn't be that large because there are a lot of exceptions," said Ting Gao, head of China strategy at UBS in Shanghai. "Some people may not buy WMPs and invest in other funds instead, which may still end up in the stock market. So not all of that cash is lost."
Volumes Surge
Benchmark indexes in both Shanghai and Shenzhen tumbled the most in six weeks and volumes surged to a three-month high on July 27 amid concern about the possible WMP curbs. A pledge from the Communist Party's top decision-making body to curb asset bubbles -- reported by the official Xinhua News Agency -- added to investor nervousness.
The market reacted so strongly also because investors were taking profits after recent gains, said Gao. Both gauges have since risen at least 1.1 percent.
The rules will probably only affect future products, mitigating the market impact, said Ivan Shi, a Shanghai-based analyst at consultancy Z-Ben Advisors Ltd. The China Banking Regulatory Commission's proposed rules, which are based on a previous version circulated in 2014, are pending feedback from lenders and may be subject to change.
For more on the planned rules, click here.
WMPs proliferated in China as a way for banks to skirt lending and investment restrictions and for individuals to earn returns higher than deposit rates. Their outstanding value tripled in three years to reach 23.5 trillion yuan, or 35 percent of gross domestic product, at the end of 2015, according to figures from the China Central Depository & Clearing Co. About 51 percent were invested in bonds and money-market instruments, 16 percent in non-standard credit assets and 8 percent in equities including unlisted shares, the data show.
The CBRC draft is positive for the bond market because WMP managers will probably divert cash from shadow-banking assets and stocks into debt, according to David Qu, a Shanghai-based economist at Australia & New Zealand Banking Group Ltd.
Some rules may have an indirect impact on stocks, rather than weighing on the entire market. There's a proposed ban on multi-tranche WMPs, which are commonly used for leverage related to backdoor listings and acquisitions, Morgan Stanley analysts led by Richard Xu wrote in a July 27 note. The draft also suggests requirements for reserves and a third-party custodian, as well as a ban on WMPs investing in non-standard assets through investment vehicles other than trusts, which have already been facing tightening regulations.
"The purpose of the rules is not to target the stock market or leverage, but banks' shadow banking risks," said UBS's Gao, who predicts the CSI 300 Index will end the year at 3,200, close to Monday's level.
Before it's here, it's on the Bloomberg Terminal.
LEARN MORE