China Leaders Head to the Beach, With Calmer Seas Ahead
Communist Party set to overhaul much of its leadership in 2017

Tough reforms seen on hold for now, with growth a priority
China's top leaders are gathering for their annual conclave at the Beidaihe beach resort having defied the doomsayers once more.
Economic data in coming days are projected to confirm the stabilization in growth achieved in the first half of this year continued into July. The backdrop of calm has won China a sustained respite from the financial-market turmoil and capital outflows that accompanied the Communist leadership's traditional beach-resort meeting last year.
But the stability has come at a cost. Instead of delivering on what Premier Li Keqiang called reforms so tough they'd be like cutting "flesh," authorities have relied on another dose of cheap credit to prop things up. That's added more leverage to a nation where debt is already 2.5 times the economy's size.
Behind the reluctance for a bigger economic shakeup is a desire for stability ahead of a potentially wide-ranging reshuffle of the Communist hierarchy next year, according to Credit Suisse Group AG. "Candidates will prefer to be playing it safe rather than executing substantial reforms -- especially state-owned enterprise reforms," the bank's China analysts, led by Vincent Chan, wrote last month.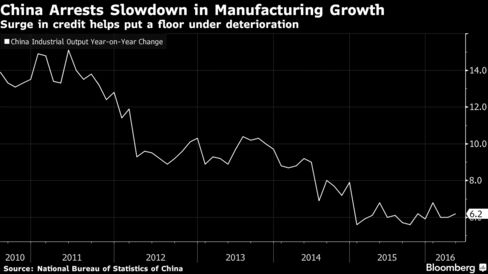 State-owned enterprises offer the major lever for ramping up growth through infrastructure spending, making officials reluctant to implement wide-ranging changes. Yet their dominance in access to capital has squeezed opportunities for the more efficient private sector, contributing to a build-up in non-performing loans.
"The immediate consequences of course are a relatively becalmed economy, which seems to have some staying power," said George Magnus, senior economic adviser to UBS Group AG. "But at what cost in the medium to longer term if there's no change in the instability-causing policies?"
For a QuickTake on China's dilemma over control versus markets, click here.
The Communist Party's top officials, led by President Xi Jinping, typically gather at the Beidaihe seaside resort near Beijing each summer to mull national priorities. In a sign this year's session is getting underway, official state media have reported on one member of the most senior group gathering with experts.
Last year, the leadership group sought the advice of former premier Zhu Rongji, who was credited with a major overhaul of state-owned enterprises in the 1990s, underscoring Xi's desire for supply-side reforms that bolster the economy's potential.
Dominating Finance
While Zhu's restructuring helped reduce the role of SOEs in the economy, they continue to account for about half of outstanding credit and -- including local government financing vehicles -- around 90 percent of corporate bonds, according to calculations by Goldman Sachs Group Inc.
The result: "continuing serious misallocation of capital," Goldman economists including Zhennan Li wrote in an Aug. 5 note. Equalizing access to financial markets for SOEs and the private sector could lift China's trend growth by 0.5 percentage point over a decade, according to the team's estimates.
"SOE reform in China has always been a political issue -- how fast and to what extent reforms could proceed depends to a large extent on political considerations," Goldman economists wrote.
Political Shake-up
Communist officials have little incentive now to rock the boat, more than a year ahead of the 19th Party Congress expected to open around October 2017. As many as five of the seven members of the Politburo's supreme Standing Committee could be replaced at that time -- all save Xi and Li, who are young enough to remain should existing conventions on retirement ages be followed.
Lower ranks are also set for a shake-up. Credit Suisse analysts estimate that some 40 percent of provincial leaders will retire before or at next year's party gathering. All in all, the personnel changes "will be one of the biggest in history," they wrote.
"We believe SOE reform will have a slow progress before the CPC Congress given the uncertainty around government personnel," the Credit Suisse analysts wrote. After the Congress, it'll be a different story, with "substantial policy changes" likely, they wrote.
For now, policy makers have applied fiscal easing, along with a jump in credit, to help ensure their minimum growth target of 6.5 percent. At the same time, the central bank has held off on more aggressive steps, such as cuts in benchmark lending rates or banks' required reserve ratios, in recent months.
'Sensible' Efforts
"It is clear that recently Chinese leaders have focused on preventing a sharp deceleration, rather than on re-acceleration of growth, which is sensible," said Andy Rothman, a San Francisco-based investment strategist at Matthews Asia, and previously a U.S. diplomat in Beijing.
All the more reason to avoid a deeper slowdown in China's economy is its hosting of the Group of Twenty summit, which Xi is set to chair next month in Hangzhou.
"Few of the promised reforms have been delivered in substance," said Victor Shih, a professor at the University of California at San Diego who studies China's politics and finance. "Instead of reform, the current administration has put a heavy emphasis on stability."
Before it's here, it's on the Bloomberg Terminal.
LEARN MORE