Spain Industrial Output Slows Most in 18 Month as Momentum Eases
Spanish output moderated pace of expansion in second quarter

Nation making little progress in talks to form government
Spanish industrial production decelerated the most in 18 months as growth in the euro zone's fourth-biggest economy eases while negotiations to form a government continue.
Industrial output on a seasonally-adjusted basis grew 0.8 percent in June from the same month a year earlier, marking the lowest reading since January 2015. On a monthly basis, industrial production expanded 0.2 percent. Those numbers fall short of economists' estimates of 1.3 percent and 0.5 percent, respectively, in a Bloomberg survey. The data come after a gauge for the services and manufacturing sector also showed a slowdown with both indicators missing expectations.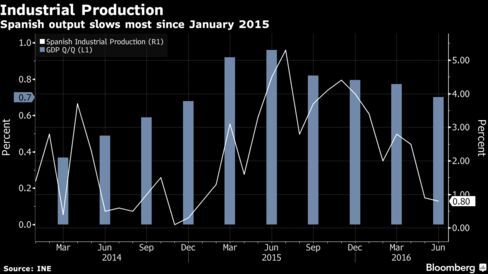 "I wouldn't call this alarming," said Estefania Ponte, head of research at BNP Paribas Personal Investors in Madrid. "The reading may seem weaker, but it's in line with output. Growth is moderating toward a more sustainable pace."
Gross domestic product expanded 0.7 percent in the second quarter, the first slowdown in almost a year, although that's still twice as fast as the euro zone's pace of expansion. The Spanish caretaker government led by Mariano Rajoy expects the economy to grow 2.9 percent this year, before reducing the pace of growth to 2.3 percent next year.
While the growth outlook remains solid, the nation is stuck in an unprecedented political deadlock following two inconclusive elections. While Rajoy expanded his party's lead in the June repeat ballot, he's failed to rally support across rival parties to secure his re-election as prime minister before parliament. Spain faces a Sept. 30 deadline to submit a 2017 budget, and needs a government to do so.
Earlier Friday, German data showed factory orders unexpectedly declined in June coinciding with a slump in demand for investment goods within the euro area ahead of Britain's referendum to leave the European Union. Even so, the nation's Bundesbank believes economic fundamentals remain strong, pointing to upside in the coming quarters.
Before it's here, it's on the Bloomberg Terminal.
LEARN MORE