July Jobs Report Shows the Recovery Broadening Out to Those Left Behind
Unemployment among those without high school education falls to record low.
July's surprisingly strong U.S. nonfarm payrolls report, with employment rising by 255,000, also showed that the low end of the labor force gained strength at a rapid pace.
"The strong increase in labor force participation and drop in unemployment for 3 proxies of low-end services employment—Hispanics, teens, and those with less than a high school diploma—suggest that this was the best month for cheap labor of this expansion," said Conor Sen, a Bloomberg View contributor and portfolio manager at New River Investments.
Most notably, the labor market for less-educated workers tightened meaningfully in July. Unemployment among Americans 25 or over with less than a high school diploma fell by 118,000, to a total of 669,000, the lowest level since records began in 1992.
The unemployment rate for this segment also fell to 6.3 percent, from 7.5 percent, the lowest since October 2006, amid a rising participation rate and robust job gains.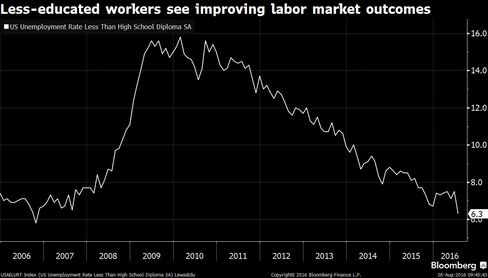 Improving labor market outcomes among less-educated workers could further diminish support for Republican nominee Donald Trump, who has recently seen his poll numbers in national surveys and battleground states slide, ahead of the November U.S. elections.
"This election has exposed an education gap, with college-educated voters supporting Mrs. Clinton and those without college degrees more likely to support Mr. Trump," added Sen. "This jobs report shows that Mr. Trump's voters are finally starting to feel the effects of the economic expansion."
Despite a weak end to July, the Bloomberg weekly U.S. Consumer Comfort Index for workers earning less than $15,000 rose considerably over the course of the month, peaking at levels not seen since 2007.
Before it's here, it's on the Bloomberg Terminal.
LEARN MORE