Gross domestic product increased 5.18% from year earlier

Government spending surges 36% from previous quarter
Indonesia's second-quarter growth beat expectations as President Joko Widodo's government embarked on a spending spree to boost an economy grappling with a slowdown in China and low commodity prices.
Gross domestic product increased 5.18 percent from a year earlier, compared with a revised 4.91 percent in the first three months, the statistics bureau said in Jakarta on Friday. That exceeded the 5 percent median estimate in a Bloomberg survey of 24 economists.
Widodo, known as Jokowi, oversaw a 36 percent surge in government spending from the previous quarter as he seeks to lift growth from the slowest level since 2009. The president has embarked on an ambitious infrastructure program and launched a tax amnesty aimed at luring billions of dollars of undeclared income back to Indonesia. The central bank has cut its benchmark rate by a percentage point this year in an attempt to revive lending.
"The outlook for Indonesia's economy has improved in recent months, raising hopes that the economy could be on the cusp of a sustained recovery," said Gareth Leather, senior Asia economist at Capital Economics Ltd. in London. "In particular, the passage of a number of reforms including steps to open up more industries to foreign investment as well as tax incentives to encourage more labor-intensive industries to set up in Indonesia has helped boost sentiment."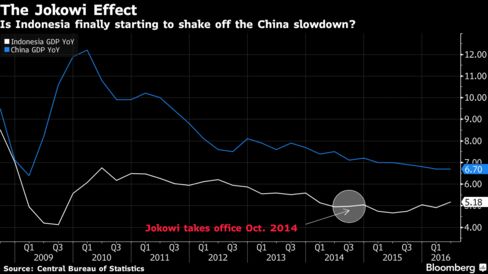 The Jakarta Composite Index extended gains after the figures were released, rising 0.8 percent as of 11:17 a.m. in the city. The rupiah strengthened 0.1 percent to 13,123 a dollar, according to prices from local banks. Indonesian sovereign bonds advanced, pushing the 10-year yield down two basis points to 6.89 percent, Inter Dealer Market Association prices show.
The government's capital expenditure has doubled from a year earlier to 22 percent of its target, according to Gundy Cahyadi, an economist at DBS Bank Ltd. in Singapore. That pace may slow amid efforts to tackle the fiscal deficit, he said.
While the data exceeded economists' expectations and the outlook has improved, the result still remained "considerably below" the 5.8 percent average over the past decade, said Capital Economics's Leather.
On a quarterly basis, the economy grew 4.02 percent from the previous three months.
Spending Surge
Government spending rose 6.28 percent from a year earlier, compared with an annual rate of 2.9 in the first quarter. Exports declined 2.73 percent. Investment was up 5.06 percent year-on-year while household consumption, which makes up more than half of the economy, rose 5.04 percent.
"They can really pause now for a while to see what impact of the fiscal decisions as well as the cuts they've announced so far are having," said Charu Chanana, an economist with Forecast Pte Ltd. in Singapore "I think this buys them some time to hold on for now but easing still remains on the table."
The second quarter growth figures come after the central bank left rates on hold in July despite saying there was room for further easing if needed.
Before it's here, it's on the Bloomberg Terminal.
LEARN MORE