Worsening Jobs and Trade Outlook Raises Canada Stimulus Odds
Net employment plunges 31,200 in July, the most since November

Data also shows record monthly and year-to-date trade gaps
Canada is struggling to emerge from its economic slump, with data Friday increasing the prospects policy makers will need to add more stimulus if things don't improve.
Employment unexpectedly fell in July, with net new jobs down 31,200 and the unemployment rate rising to 6.9 percent, Statistics Canada said from Ottawa. In a separate report, the agency said the nation's trade deficit hit records in the second quarter, including a C$3.6 billion ($2.7 billion) gap in June.
The two reports fall well short of what economists were expecting and may fuel concern among policy makers, led by Bank of Canada Governor Stephen Poloz, that the country's economic deterioration may be worse than initially thought. The jobs report also contrasts with the picture in the U.S., where payrolls jumped for a second month.
"The bigger issue is not so much the employment numbers, which bounce around, but the trade data," Avery Shenfeld, chief economist at Canadian Imperial Bank of Commerce, said in a telephone interview. "Canada is counting on the export sector to step up to the plate and this is another month where we just didn't see it. If that doesn't turn by the end of the year we could be looking for another does of stimulus, preferably fiscal stimulus rather than throwing more fire on a housing bubble with lower rates."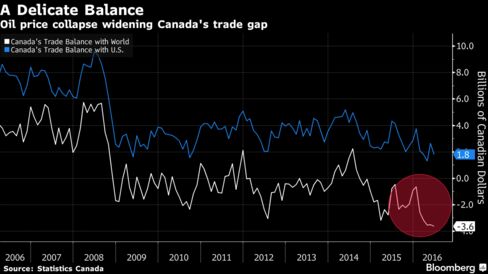 The bad news was reflected in the currency market, where the Canadian dollar slumped 1.3 percent to C$1.3194 against it's U.S. counterpart. The spread between U.S. and Canadian government debt widened to the most since May.
The economy is adding jobs at the slowest pace outside of a recession since at least the mid-1970s as a slump in oil prices weakens exports and business investment in the energy-rich country. In the first seven months of this year, Canada has created just 12,400 new jobs. That's the smallest seven-month gain outside of past recessions in data going back to 1976.
July's job decline -- the worst since November -- was in part due to a sharp drop in public workers, which had been inflated in previous months as the federal government undertook a census. Other big job losers in July were trade, down 13,500, and construction, 9,000 lower.
Economists surveyed by Bloomberg had forecast a job gain of 10,000 for the month.
Record Deficit
The trade picture was also more grim than expected. Economists predicted the deficit would narrow in June. Instead, it widened to a record, with the statistics agency also raising initial estimates for the April and May shortfalls.
The worsening trade gap reflected a 0.8 percent gain in imports that outpaced a 0.6 percent rise in exports. The export increase -- the fastest since January -- was one of the few bright spots in the two reports.
Still, Friday's U.S. jobs report, which beat expectations, and the federal government's deficit-spending plan will give policy makers some breathing space before they need to make any decisions. Prime Minister Justin Trudeau's government estimates its stimulus measures -- unveiled in March and totaling about C$12 billion this year -- will bolster growth by 0.5 percentage points. Almost half of that will come in the form of new enhanced child benefits that were released to households starting last month.
Poloz, who cut rates twice last year amid a similarly dreary trade outlook, will probably hold off lowering them again this year to give existing measures time to kick in. Trading in interest-rate derivatives show the odds of a cut for the rest of 2016 moved higher after Friday's data, but are still only about 20 percent.
"The Bank of Canada is likely to be patient as well as the federal finance department," Shenfeld said. "One ray of sunshine is that the U.S. data seem to be turning stronger again and that is our key market."
Before it's here, it's on the Bloomberg Terminal.
LEARN MORE