Volcker Devotees in Russia Turn to Chile to Banish Inflation
Chile is a model for anchoring inflation outlook, Yudaeva says

Russian inflation expectations still high as price growth dips
At the height of Russia's currency crisis last year, its central bank governor summoned the experience of Paul Volcker to steel her nerves. With inflation expectations now increasingly coming unhinged, her deputy is turning elsewhere for guidance.
Russia is looking to Chile as a model of success in anchoring inflation expectations, according to First Deputy Governor Ksenia Yudaeva. It was a subject discussed at a financial congress in St. Petersburg this summer, which featured a speech by a top Chilean central banker, she said.
Both economies revolve around the export of commodities -- copper in the case of Chile, oil and gas for Russia. The peso and the ruble tumbled as markets for oil and metals swooned, touching off inflation in Chile and Russia over the past two years. Hemmed in by geopolitical tensions and sanctions over Ukraine, the Bank of Russia responded with six interest-rate increases in 2014, more than tripling its benchmark to 17 percent. Its counterparts in Chile got away with two increases by a quarter-point each. The difference?
In Chile, "inflation expectations remained low for a long time, which is why the Chilean central bank could conduct a rather loose monetary policy while very much coping with the consequences of the external shock," Yudaeva said in e-mailed comments. "The situation in Russia is quite different."
Chile started inflation targeting back in 1991, the second country in the world to do so. The inflation rate then steadily declined from as high as 25 percent, before stabilizing around the 3 percent target over the past decade. The central bank's credibility has been hard earned.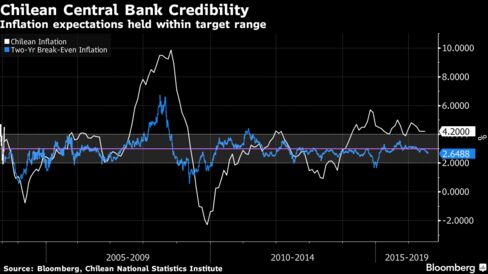 Governor Elvira Nabiullina invoked Volcker early in 2015 as inflation was accelerating to the fastest in 13 years. As chairman of the Federal Reserve from 1979 to 1987, he drove the benchmark interest rate to 20 percent to tame price pressures generated by oil shocks, sending the U.S. economy into a tailspin.
Under Nabiullina, in the job since 2013, the central bank has looked past the nation's longest recession in two decades and pushed Russian real rates to the world's second-highest. That's still barely nudged inflation expectations lower, and they've actually been on the incline in the past two months even as annual price growth slipped to 7.2 percent in July, from last year's high of 16.9 percent.
"We already see that a consistent policy has started to yield results," Yudaeva said. "So a temporary drop in oil prices at the start of this year has required no sharp steps from the central bank to stabilize the situation because the population and the market are beginning to better understand central bank policy."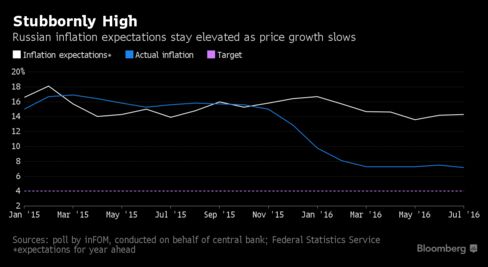 The Bank of Russia has cut rates once in the past year after halting a five-step easing cycle last September. The economy, which depends on energy for about 60 percent of exports, has adjusted to the collapse in oil prices via a weaker exchange rate after the ruble was allowed to trade freely in late 2014.
After depreciating by 20 percent in 2015 and 44 percent the previous year, the ruble is up more than 12 percent against the dollar in 2016. The 60-day correlation between the ruble and oil has dropped to an almost one-year low.
Chile, the largest copper-producing nation, has seen its currency rebound by almost 8 percent against the dollar in 2016 as prices for the metal recovered. That followed the peso's losses of 14 percent and 13 percent in the two prior years.
Dropping Anchor
The Chilean central bank's credibility and track record of independence have kept inflation expectations for two years ahead anchored at 3 percent, even as inflation has exceeded 4 percent for much of the past two years. Unlike Russia, expectations in Chile are now easing, further reducing pressure on the central bank to restrict monetary policy.
The Russian central bank is focusing on its 4 percent inflation aim for next year, a level reached in modern Russian history only briefly in 2012. Policy makers have missed their goal for a fourth straight year in 2015.
High inflation expectations mean that companies respond to the slightest uptick in demand by boosting output prices, not production, according to Yudaeva. In turn, individuals seek out wage increases that outstrip productivity, raising corporate expenses and pushing up prices, she said.
"Inflation expectations that are anchored at a low level make it possible to weather periods of shocks easier and with smaller losses for output," Yudaeva said. "And all things being equal, central banks in these periods can conduct policies that are less tight."
Before it's here, it's on the Bloomberg Terminal.
LEARN MORE