Romania Keeps Rates at Record Low on Extended Price Declines
Decision matches forecasts of all 17 economists in survey

Governor Isarescu sees negative inflation rate at year-end
Romania's central bank, rocked by the resignation of a deputy governor being probed for corruption, kept borrowing costs unchanged for a 10th meeting, painting a bleaker outlook for overcoming deflation even as the economy surges.
The benchmark interest rate was left at a record-low 1.75 percent, according to an e-mailed statement Thursday. That matches the forecasts of all 17 economists in a Bloomberg survey. The bank left reserve requirements unchanged, while Governor Mugur Isarescu said he now sees consumer-price growth resuming only next year.
"The baseline scenario reveals a projected path for the annual inflation rate that's significantly lower than previously envisaged," he told reporters in Bucharest. Inflation won't reach the 2.5 percent mid-point of the bank's target range by the end of 2017, he said.
Already battling the first bout of consumer-price declines since communism collapsed, as well as fallout from the U.K.'s decision to quit the European Union and Turkey's failed coup, the central bank is facing new upheaval after last week's arrest of Bogdan Olteanu. The exit of Isarescu's deputy, who denies allegations of influence peddling, trims the bank's board to eight members, a situation that could prevail at least until parliament reconvenes after summer recess. A general election is due toward year-end.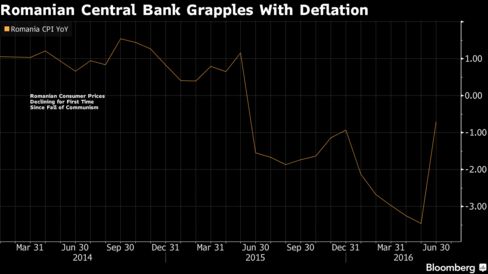 The leu has gained 1.4 percent against the euro this year, the best performance after Russia's ruble among central and eastern European currencies, data compiled by Bloomberg showed. As international investors seek higher-yielding assets, Romania's local-currency bonds have seen increased demand, Deputy Finance Minister Enache Jiru said this week in an interview.
Deflation, considered by Isarescu to be the temporary result of pre-election tax cuts, eased in June to 0.7 percent from a year earlier. The Banca Nationala a Romaniei will provide the quarterly update of its inflation forecast on Aug. 8. The governor said Thursday that global factors are now the main drag on prices.
"We have signals that inflationary expectations are changing because we're importing deflation not inflation," he said. "But it's hard at this point to measure these changes so that's why we say we'll have a more pragmatic approach and we'll take the appropriate decisions based on developments."
Even amid the uncertainties, and economic growth that's prompted some to talk of overheating, monetary-policy makers are still looking for a window to trim banks' minimum reserve requirements and bring them closer to EU levels, Isarescu said last month.
"We still think strong domestic demand and the unwinding of VAT cuts will cause inflation to rise pretty sharply next year," William Jackson, an analyst at London-based Capital Economics Ltd., said in an e-mailed note. "We think some, albeit very gradual, interest rate hikes are still more likely than not over the next 12 months."
Before it's here, it's on the Bloomberg Terminal.
LEARN MORE