Chinese Lawyers From Same Legal Firm Jailed for Subverting State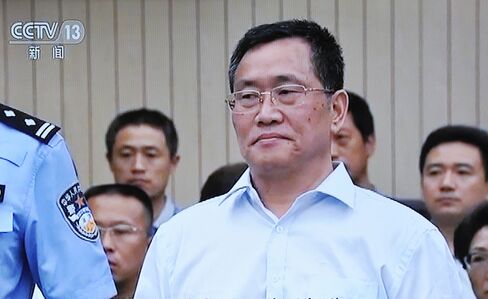 Lawyer Zhou Shifeng sentenced to seven years in jail

Several lawyers made video confessions amid court case
Lawyers and activists linked to a single legal firm have been sentenced in China for subverting state power, the first penalties handed out for what state media called a "rights-defense" movement suspected of instigating protests to manipulate opinion.
Fengrui Law Firm director Zhou Shifeng was sentenced Thursday to seven years in prison. Others received penalties of as long as seven years. One was released from detention on Monday after making a televised confession.
On Friday, the same court sentenced Gou Hongguo, an activist associated with the law firm, to a three-year suspended term. Gou pleaded guilty and told the court he wouldn't appeal, according to state media.
The targeting of the law firm was a prominent move to curb dissent under President Xi Jinping, who since taking power in 2012 has assumed personal control over an overhaul of China's national security apparatus. Lawyers have been under particular pressure, alongside human rights activists, while the ruling Communist Party recently turned its focus to state media, tightening its grip over the web and information industries.
The lawyers were accused of "disrupting public order and seeking profits by illegally hiring protesters and swaying court decisions in the name of defending justice and public interests," the official Xinhua News Agency said in July last year. The group worked with petitioners to organize more than 40 public incidents since July 2012, including protests over a fatal police shooting in the northeastern Heilongjiang province, it said.
The trials of the lawyers were held this week in Tianjin. Their detention had sparked alarm in the U.S., with the State Department saying last year it was concerned China's national security law was "being used as a legal facade to commit human rights abuses."
"China has the right to do whatever it needs to based on the country's law and legal system," said Hong Daode, a law professor with the China University of Political Science and Law. "We should be more confident," Hong said. "For example we should live broadcast the trial on social media. There's nothing that we should be afraid of. It shouldn't be a discussion if the ruling matches Western standards as long as we made the verdicts based on our own rules."
Signed Letter
Zhou pleaded guilty and told the court he won't appeal the verdict, according to Xinhua. He joined some of his colleagues in appearing to cooperate with authorities -- pleading guilty and in some cases issuing strongly-worded statements of contrition. A letter signed by Zhou published by the Tianjin court urged his family members not to show up at the courthouse.
Zhai Yanmin, who was also arrested last year, pleaded guilty on Tuesday to subverting state power, according to Xinhua. Zhai was given a suspended three-year prison sentence -- he won't serve time in jail unless he breaks the law within the next four years.
Xinhua cited court officials as saying Zhai was exposed to concepts such as "color revolution" and "peaceful transition" online before becoming a member of an "underground church".
"I want to become an example of the consequences of listening to and supporting the hostile forces overseas and at home," Zhai was quoted by Xinhua as saying. "The so-called 'democracy', 'human rights' and 'benefiting the public' are flaunted by them as a mask for criminal activities."
Televised Confession
Hu Shigen, an activist who spent 16 years in jail until 2008 for advocating for democracy in China, pleaded guilty on Wednesday, saying he'd wanted to "smear the judicial system" and the government, according to Xinhua. He was sentenced to seven and a half years for subverting the state. The status of Li Shuyun, an assistant lawyer to Zhou, remains uncertain.
Another activist and lawyer, Wang Yu, was released on Monday after making a televised confession. Saying she won't be used by "foreign forces" seeking to propagate Western values in China, Wang said in a video posted by official media that she "won't acknowledge, won't recognize and won't accept" honors given by organizations including the American Bar Association.
The ABA announced last month it would give its first International Human Rights Award to Wang, and called on China to "permit lawyers to discharge their professional duty."
The greater use of televised confessions is aimed at giving court proceedings legitimacy, but could backfire, according to Maya Wang, a researcher for Human Rights Watch in Hong Kong.
"The entire case is baseless," said Wang. "This is consistent with the government's wider campaign to crack down on human rights and democracy since President Xi Jinping came to power."
— With assistance by Keith Zhai
Before it's here, it's on the Bloomberg Terminal.
LEARN MORE