Callaway Surges After Nike Abandons Golf-Equipment Market
Nike had built its golf business around Tiger Woods's fame

Callaway CEO said last month that the company is rebounding
Callaway Golf Co. jumped as much as 8.5 percent in New York trading after Nike Inc. announced plans to abandon the golf-equipment market, removing a competitor from the industry.
The shares rose as high as $11.48 in the wake of Nike's statement Wednesday that it would stop selling golf clubs, bags and balls. The rally marked Callaway's biggest intraday gain in almost six months. Nike will continue to offer footwear and apparel for the sport.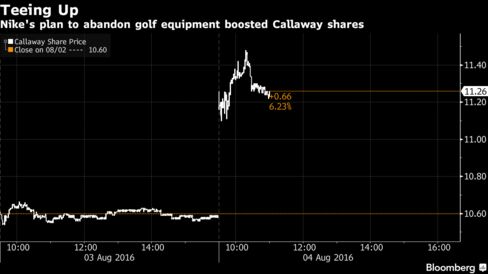 Nike's exit gives Callaway more breathing room at a time that the golf industry is trying to stage a comeback. The company said last month that sales were growing in all of its major regions and it was "cautiously optimistic" about the second half. The market for golf has suffered from waning interest in recent years, weighing on results.
"I'm confident that Callaway Golf is in a much stronger position today than it has been in quite some time," Chief Executive Officer Chip Brewer said on a conference call in July.
For a QuickTake explainer on the decline of golf, click here
Sales at the Nike Golf division, meanwhile, fell 8.2 percent to $706 million in the fiscal year that ended in May. That made it the company's worst-performing major category. Nike shares rose 0.5 percent to $55.01 on Thursday.
Nike built its golf business around the stardom of Tiger Woods, who helped draw interest to the sport in the late 1990s and early 2000s. But the athlete took a break from golf after a car accident outside his Florida home in 2009 led to an admission of marital infidelity. He returned to the sport but never regained his earlier dominance.
Clothing Line
Woods, 40, has used Nike equipment, and the company sells a clothing line under his name. The Beaverton, Oregon-based company said on Wednesday it will continue to innovate in apparel and shoes.
"We're committed to being the undisputed leader in golf footwear and apparel," said Trevor Edwards, president of the Nike brand. "We will achieve this by investing in performance innovation for athletes and delivering sustainable profitable growth for Nike Golf."
Golf ranked as Nike's smallest category last year, below action sports, women's training and other segments. Sales of the division have fallen for three straight years.
Adidas AG, Nike's biggest rival, also is shifting away from golf. The company has been seeking buyers for the bulk of its golf business, including TaylorMade and Adams clubs. The operations have been a drag on Adidas's profit.
Before it's here, it's on the Bloomberg Terminal.
LEARN MORE