Bears Pile on 500.Com Amid China Sports Lottery Shutdown: Chart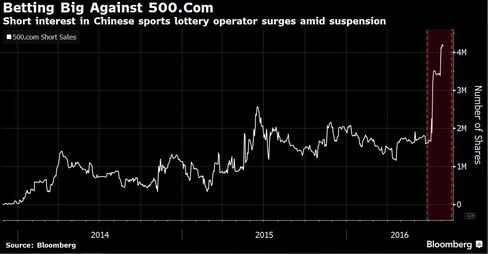 Investors are more bearish than ever on 500.com Ltd., the Chinese online sports lottery operator whose revenue has been cut off amid a regulatory crackdown on the industry. Shares borrowed for short selling touched a record 4.2 million this week, data compiled by Markit Ltd. and Bloomberg show. Negative sentiment has been building as investors bet 500.com will be left out when the government allows certain lottery services to be resumed after they were halted last year, according to Henry Guo, an analyst at M Science LLC.
Before it's here, it's on the Bloomberg Terminal.
LEARN MORE