Bank of America Has a Suggestion for Carney - Add Swaps to QE
A way of stimulating the economy without sacrificing pension funds.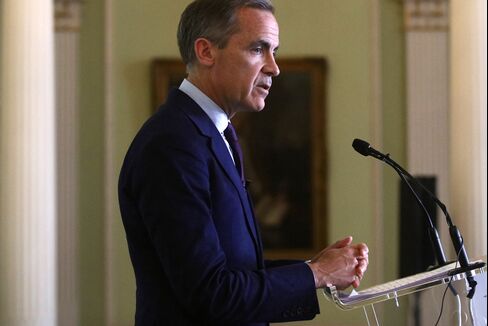 Bank of America Corp. has an unusual idea for how the Bank of England's Mark Carney can restart quantitative easing without damaging pension liabilities: enter the derivatives market.
If the Bank of England announces additional QE at its meeting on Thursday it should consider coupling bond buying with "swap paying," said Bank of America strategists led by Mark Capleton.
This is how it could work: the BOE buys 1 billion pounds ($1.3 billion) of 10-year gilts and immediately thereafter enters an equivalent-size interest-rate swap of the same maturity where it pays a fixed rate and receives a floating rate. By doing the trade the BOE would be "supplying roughly the same duration as it is acquiring" and thus the overall level of yields shouldn't change much, the analysts said.
The tendency of central banks to suck duration out of the market with their long-dated bond purchases has been a point of contention for large investors who must find alternative ways to recreate this crucial portfolio ingredient. Adding swaps to the QE mix would effectively allow the central bank to supply the market with extra duration while keeping gilt yields — which are hovering near record lows — from falling further in what would in theory be a win for pension schemes already under strain.
That's because lower yields worsen a mismatch between the assets and liabilities of pension funds by reducing income and increasing estimates of future costs, while the lack of duration is a particular headache for investors with trillions of dollars worth of long-dated liabilities.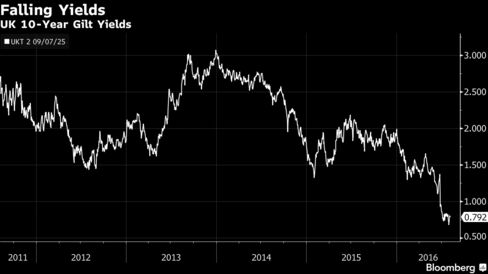 Getting this right is particularly important since pension liabilities of companies in the FTSE 350 hit a record high of 813 billion pounds following the U.K.'s historic decision to leave the European Union, according to data compiled by Mercer.
Bank of America's proposal would not only support yields but also achieve the so-called portfolio effect of QE — whereby investors are incentivized to sell gilts for higher-yielding assets — which would be necessary to generate the return needed to pay the BOE's swaps obligation, said the analysts.
"The fact that pension funds have large deficits should mean they remain keen to de-risk their liabilities with swaps while taking risk on the asset side in the hope that alpha [outperformance] generated will contribute to a narrowing of their deficits."
The strategy would also have benefits for the BOE as well:
"Were its swap trades restricted to the long end, we would argue that the overall position would be less risky than the outright duration position of normal QE and the overall position should be strongly positive carry to maturity (since long gilts are cheap to swaps and, except in the temporary circumstances where imminent rate cuts are priced, Libor should trade above bank rate)."
Still, any step into the swaps would be a big one for the BOE and Bank of America doesn't see such a program getting announced today but rather, it could be added as a "bolt-on" scheme at a later date.

"We still expect a package of measures to be announced at the August meeting this week that will include a 25 basis point rate cut and £50bn QE — most or all of which will be gilt QE, as before," Carleton concludes.
Before it's here, it's on the Bloomberg Terminal.
LEARN MORE