An Edible Marijuana Pioneer Is Ready for Billion-Dollar Cannabis Brands
Dixie Brands CEO Tripp Keber on his biggest challenges.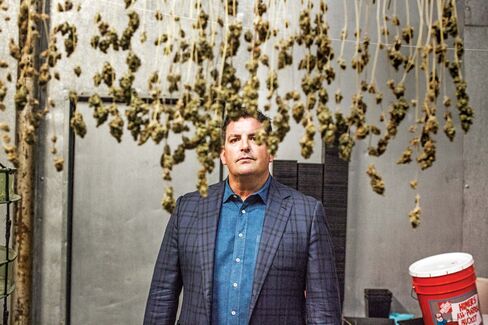 The following is a condensed and edited interview with Tripp Keber, CEO, Dixie Brands.

Why did you get into the cannabis industry?
I got into the marijuana business, ironically, to make money. Boy, was I wrong in the early days. I realized in a very quick time period that there was far more to this industry than making money. The power of cannabis is just superior to some of the other wellness platforms, so it's exciting to see us six years later and how the company has grown.

Why edibles?
It is called weed for a reason, because it grows like one. But to grow good quality cannabis, it's incredibly challenging. It's as much of a science as it is an art. I'm not one exactly to get my hands dirty in the garden, so I eliminated that as an opportunity.

We started with the concept that we could take cannabis and add water and ultimately create an elixir. With that, Dixie Elixir was created in early 2010. And it's exciting—from that one product, we've grown 15, 16 delivery systems—a total of 170-plus products.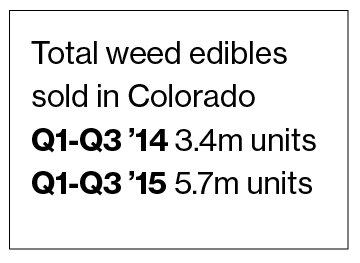 Who is your target consumer?
At the height of the medical marijuana registry in Colorado—that's our home state—we had just 120,000-plus registered patients. In January of 2014, the first month that adult-use cannabis was offered, over 10 percent of Colorado residents, 500,000-plus people, embraced legal adult-use marijuana for the first time. So the demographics just exploded. You'll have construction workers all the way up to women in business suits grabbing products like Dixie's on their lunch break.

Do you focus on different parts of that large swath of users?
We have products that will provide a cerebral or euphoric experience focusing primarily on THC, which is the psychoactive ingredient. We have products that are specifically designed to assist with women and premenstrual syndrome. We have products that are designed to be enjoyed at a golf course—an elixir. It's providing 10 milligrams, the equivalent of maybe one and a half glasses of wine. Our single most popular product in the country is a THC-CBD synergy balm. This provides zero euphoria. It is a topical that you apply to your skin. It provides a level of wellness or a level of relief from pain

What are the toughest challenges?
Twice in two years we lost our banking. When I moved to Colorado, I'd been with Wells Fargo for years, and on one given day we were notified that we had less than 30 days to shut down our accounts and come get our money.
This is an industry that presents so many challenges. Medical marijuana and/or adult-use marijuana are still illegal at the federal level, although that is becoming less and less of a risk.

The good news is companies like Dixie do have strong banking relationships, but there are smaller companies that end up having to pay me as a wholesaler in cash. And when you're selling millions of dollars of products on an annual basis, that is really a real big challenge.

What are the other challenges?
Right now we're facing a ballot initiative, Proposition 139 here in the state of Colorado, that would limit the amount of potency to 16 percent, which would be a death blow to the industry. It would basically gut the industry and take what was a billion-dollar industry last year and probably turn it into something 60, 70 percent of that.

Where will Dixie be in 10 years?
We're a privately held company, so we don't discuss revenues, but I can tell you that the company is dealing with hyper, hyper growth. I stated publicly that our company was valued in 2014 after an $8 million investment as a $40 million company. It is safe to believe that we will see significant increase in that valuation as early as the third quarter or fourth quarter of 2016. We will probably see the company valued as we go out for our next round for maybe as little as $160 million, but potentially as great as $180 million.

If you don't believe that there will be billion-dollar cannabis brands created, I don't think you're looking at the tea leaves properly.

SoundCloud: Bloomberg Businessweek Interview Issue: Tripp Keber by Bloomberg




Before it's here, it's on the Bloomberg Terminal.
LEARN MORE