Silver-Coin Buffs Show Timing Is Everything in Demand Ebb: Chart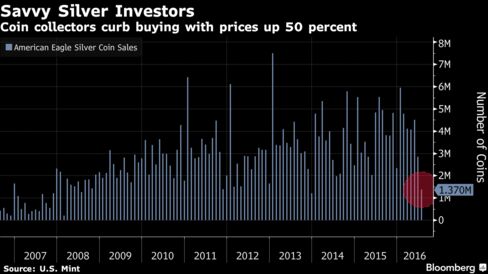 Coin collectors could teach investors a thing or two about buying low and selling high. Buyers boosted purchases of silver coins globally to a record in 2015, just as prices of the metal were on the way to the longest annual losing streak in more than two decades. With silver jumping 50 percent this year, U.S. Mint data show coin buyers are backing off, paring purchases to a two-and-a-half-year low in July and underscoring CPM Group's forecast earlier this year that higher prices would deter coin buying.
Before it's here, it's on the Bloomberg Terminal.
LEARN MORE