Meg Whitman Backs Hillary Clinton, Denounces Donald Trump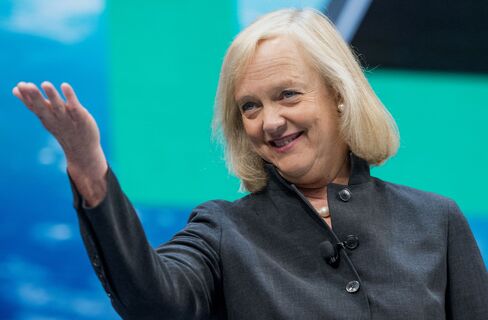 HP Enterprise CEO joins about 140 tech figures decrying Trump

Whitman once ran for governor of California as a Republican
Meg Whitman, who once ran for governor of California as a Republican, threw her support behind Democrat Hillary Clinton for the U.S. presidential race this year, adding a prominent Silicon Valley name to the list of executives pushing back against Donald Trump's candidacy.
Whitman, chief executive officer of Hewlett Packard Enterprise, urged all Republicans to reject Trump, who has "reckless and uninformed positions on critical issues," according to a statement provided by the company. She ran unsuccessfully against Democrat Jerry Brown for California governor in 2010.
"To vote Republican out of party loyalty alone would be to endorse a candidacy that I believe has exploited anger, grievance, xenophobia and racial division," Whitman said. "Donald Trump's demagoguery has undermined the fabric of our national character."
While Silicon Valley is hardly known as a Republican stronghold, Whitman's rejection of Trump adds a strong voice to those opposing Trump. Last month, a group of about 140 tech industry figures, including EBay Inc. founder Pierre Omidyar, Twitter Inc. co-founder Ev Williams and Qualcomm Inc.'s Irwin and Paul Jacobs, sent an open letter decrying Trump's candidacy, saying his views on immigration, internet security and government investment would stifle the technology industry.
Whitman's endorsement of Clinton, the former secretary of state, comes just days after the major parties wrapped up their conventions. The tech executive, who was formerly EBay's CEO, raised concerns about Trump's approach to issues around immigration, the economy and foreign policy.
In addition to backing Clinton, Whitman will donate to the candidate's campaign and try to raise money for her, the company said in an e-mail.
"It is clear to me that Secretary Clinton's temperament, global experience and commitment to America's bedrock national values make her the far better choice in 2016 for President of the United States," Whitman said in her statement. "In a tumultuous world, America needs the kind of stable and aspirational leadership Secretary Clinton can provide."
Before it's here, it's on the Bloomberg Terminal.
LEARN MORE