Energy Rout Reorders Century-Old Japan Trading House Standings
Profit at 'Big Three' traders hurt by slump in commodities

Non-resource investments help buffer Itochu from energy slide
The energy price collapse is doing in Japan what the Great Depression and two world wars couldn't: end a century of dominance by its three most-prestigious companies.
The trading house descendants of Mitsubishi, Mitsui and Sumitomo, which have dominated Japan's economy for more than 100 years, have seen their profits topped by their lesser-known rival Itochu Corp. And analysts predict the firm will be the leading earner until at least fiscal year 2018.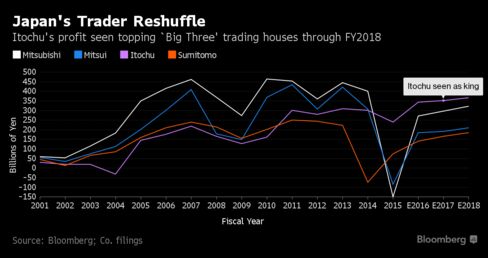 Since the end of World War II, Mitsubishi Corp., Mitsui & Co. and Sumitomo Corp. have lived on as the nation's "Big Three" trading companies. They invested in commodities, from shale oil and gas to coal and copper, which led to enormous writedowns when prices began to plummet over the last few years. With the value of their assets in free fall, Mitsubishi and Mitsui were forced last fiscal year to post their first net losses ever.
By contrast, Itochu's decision to heavily invest in non-resource businesses earlier this decade helped it profits overtake the three powerhouses. Between fiscal years 2011 and 2015, Itochu's profit from its non-resources business -- which range from fresh produce distribution to call center operations -- skyrocketed fourfold to 317.2 billion yen ($3.1 billion).
Becoming a Force
Itochu is "becoming a force people are going to have to deal with," Thanh Ha Pham, an analyst at Jefferies Japan Ltd., said by phone from Tokyo. "They grew their non-resources businesses, and their forecast for resources was quite constant. It has a different corporate culture, it has a different way to do business."
Itochu is forecast to post a profit of 350 billion yen for the fiscal year ending March, topping all of the country's other trading houses for a second year in a row, according to filings this week.
It isn't just analysts and investors that have taken notice of Itochu's new-found dominance. A job at Itochu is the third-most sought after among college students graduating in 2017, according to a poll conducted by Rakuten Inc. Mitsubishi ranked 18th, Mitsui was 35th and Sumitomo was 49th.
Mitsubishi and Mitsui have said they will shift focus toward non-resource businesses, following in Itochu's footsteps. The Bloomberg Commodity Index, a measure of returns from 22 raw materials, has dropped about 35 percent the last two years. Oil has lost about 60 percent.
While Itochu is expected to lead the pack on annual basis, they've slipped in the latest quarter. Mitsubishi, the largest trader with roots dating back to the 19th century, saw profits jump 35 percent to 100.8 billion yen for the three-month period ended June, while Itochu's slid to 73.1 billion yen. Mitsui had a profit of 61.1 billion yen for the same period, while Sumitomo's was 22.7 billion yen.
Before it's here, it's on the Bloomberg Terminal.
LEARN MORE