ECB Writes Positive Score Card for Corporate-Bond Plan
Issuance picked up, yields fell since program was announced

Purchases focused on what's driving economic recovery
The European Central Bank said early data are bearing out its prediction that corporate-bond purchases would have positive effects on company financing.
Issuance of new debt has picked up and yields have fallen, the Frankfurt-based institution said in an article in its Economic Bulletin published Wednesday. The main findings of the study are summarized in the charts below.
The ECB started purchases on June 8, and the latest data show that it had bought 13.2 billion euros ($14.8 billion) of investment-grade bonds issued by companies in the euro area as of July 29.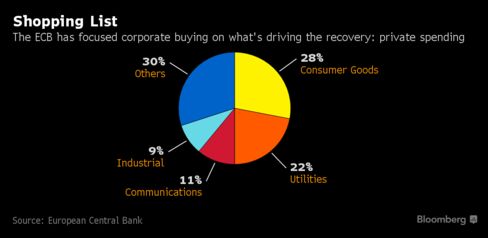 "Purchases are well diversified across ratings, sectors, countries and issuers," the ECB said.
With consumer-goods companies benefiting the most in the first weeks of the program, they also reflect what's driving the region's economic recovery.
The central bank bought debt from foodmaker Danone SA, miner Glencore Plc and insurer Mapfre SA, among others, as well from companies such as Deutsche Lufthansa AG and Telecom Italia SpA, whose notes are rated junk by at least one rating company.
Bonds are eligible if they have at least one investment-grade rating, and the ECB doesn't have to sell if they are downgraded. Ratings of bonds purchased so far ranged from AA to BBB-, with a plurality carrying a BBB+ rating, mirroring the distribution in the market.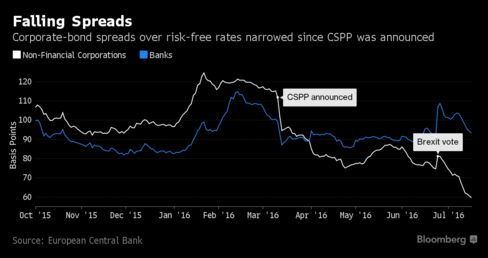 Yields of bonds bought ranged from around minus 0.3 percent, just above the ECB's deposit rate of minus 0.4 percent, to above 3 percent. Slightly more than 20 percent of the purchases were made at a negative yield, according to the article.
The ECB said that the impact of the program was significant immediately after it was presented on March 10. A widening of spreads after the U.K.'s Brexit vote was quickly reversed.
In the two weeks following the announcement, corporate-bond spreads fell not just for the debt the ECB would buy, but also for ineligible securities such as those issued by banks or rated below investment grade.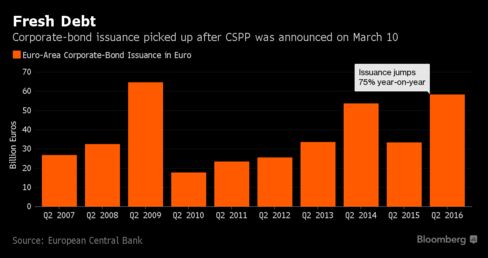 "While issuance was subdued at the beginning of the year amid elevated financial-market uncertainty, it rebounded significantly" after the ECB program was announced, according to the study. "Preliminary data suggest that issuance in the second quarter of 2016 was well above the average seen in previous years."
(
Corrects day of publication in second paragraph.
)
Before it's here, it's on the Bloomberg Terminal.
LEARN MORE