Williams' New Strategy After Failed Deal Is Same as Old One
CEO says strategy isn't any different from five years ago

Williams in a position to "reap the benefits" of shale: CEO
Since its $32.9 billion takeover by Energy Transfer Equity LP fell apart in June, Williams Cos. investors have been waiting for the pipeline giant to chart a new course as a standalone company.
On Monday, CEO Alan Armstrong responded with a plan, but it's not exactly a new one. In fact, when asked if his strategy was any different from what it was five years ago, he replied: "Nope."
Williams remains as bullish about the U.S. natural gas market as it was in 2011 and continues to focus on building the lines that'll move the heating and power-plant fuel from remote shale formations to fast-growing markets, Armstrong said in a phone interview on Monday. Earlier that day, the company cut its dividend 69 percent and said it would instead invest about $1.7 billion in its Williams Partners LP unit to help pay for "growth projects."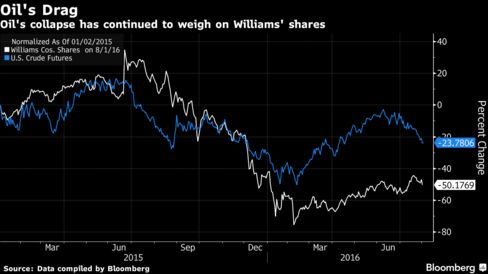 The Northeast, home of the prolific Marcellus and Utica shale gas plays, "is going to be the most critical natural gas basin there is domestically, and we've got to get in there, so we invested heavily in that space," Armstrong said. "We had confidence in that, and we stuck to that, and now we're really in a position to reap the benefits."
Williams rose 7.6 percent to $24.24 at 9:57 a.m. in New York.
Under Scrutiny
Williams' future -- and Armstrong's place in leading it -- has come under scrutiny since Dallas-based Energy Transfer terminated its deal in June to buy the Tulsa, Oklahoma, pipeline operator, as the slide in oil prices threw into question the economics of the deal. Within two days of the deal dying, six Williams board members had resigned after failing to oust Armstrong as chief executive officer. One of those directors, activist investor Eric Mandelblatt of Soroban Capital Partners, said in a letter that Armstrong was "incapable of maximizing shareholder value" and described his track record as "abysmal."
"Every director has their own opinions, and everyone's entitled to their opinions, just like I'm entitled to my own," Armstrong said in response to Mandelblatt's comments. "We've invested very heavily in the strategy I laid out and it takes time for those kind of big investments to pay out and add shareholder value."
Armstrong added that Williams' appeal of a Delaware judge's ruling in favor of Energy Transfer in June, which effectively killed the deal, seeks only damages. Williams isn't looking for a way to merge with Energy Transfer.
Meanwhile, Williams has hired recruiting firm Spencer Stuart to help it identify potential directors for the company's board. The remaining directors may appoint new members ahead of a November shareholder meeting, Armstrong said. He added that plenty of the company's competitors have fewer than nine board members, suggesting that it may not fill all six of the empty seats.
Dividend Cut
Williams was the latest pipeline company to cut its quarterly dividend in the face of low energy prices. Kinder Morgan Inc. slashed its own payout by 75 percent in December amid plunging oil prices.
Williams said in it statement Monday that the dividend may increase in 2018. The company expects to finalize the sale of its Canadian operations during the third quarter for more than $1 billion, the statement shows.
While Williams isn't currently looking to revisit a previous plan that would've rolled its Williams Partners master-limited partnership back into the company, Armstrong didn't rule out such a move in the future.
"We have so much to do right now in terms of executing on all this big capital growth that we've got going on that that's really where our focus is right now," he said. "To the degree that that value proposition reoccurs in the future, then it's certainly something we'd look at."
After almost a year of fighting Williams' would-be buyer Energy Transfer in and out of court, Armstrong acknowledged that things have been "stressful."
"It's always stressful when employees around you are concerned for their jobs," he said. "But the organization is so excited and fired up right now about really delivering and executing and really showing our investors what we can do."
Before it's here, it's on the Bloomberg Terminal.
LEARN MORE