Treasuries Volatility at 2014 Low as Fed Shows Patience: Chart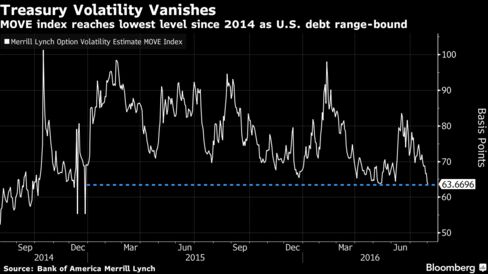 A measure of expected price swings in Treasuries dropped to the lowest since 2014 as the Federal Reserve shows few signs it's ready to raise interest rates this year. Merrill Lynch's Option Volatility Estimate Index, known by the acronym MOVE, fell on Monday to about 64 basis points, or 0.64 percentage point, from 75 basis points on July 15. In a sign of the market's tranquility, the yield on the benchmark 10-year Treasury note has traded within a range of less than seven basis points, its daily average over the past two years, in eight of the past 11 days.
Before it's here, it's on the Bloomberg Terminal.
LEARN MORE