Telefonica's Argentina Battle Brews Against Resurgent Clarin
Clarin looking to be first to bundle TV, web, phone services

Telefonica risks losing users in quickly recovering economy
Telefonica SA is faced with an unlikely competitive threat in Argentina, complicating its effort to ride the comeback of South America's second-largest economy.
The challenge comes not from its main phone-carrier competitors -- Telecom Argentina SA and Carlos Slim's America Movil SAB. Instead, it's presented by the country's largest media group, London-listed Grupo Clarin SA, and rules set by a nine-month old government.
Clarin has been snapping up mobile-phone and spectrum assets as it looks to expand to wireless services -- trying to beat the telecom carriers to offering Argentines packages of internet, pay-TV, landline phone and mobile access like the ones that have long been popular in the U.S. and Europe. Its march has been aided by the country's new government, whose President Mauricio Macri has extended a ban preventing phone carriers from selling such bundles until as late as 2019.
Telefonica "isn't in a good position," said Monica Zlotogorski, a director at research firm Gartner. "They are playing from behind" when vying for content such as sports rights, which are key to attracting subscribers, she said.
At stake is the leadership position in a country of 43 million, one of the major Latin American markets that Madrid-based Telefonica is targeting to offset sputtering growth in its competitive home region. Telefonica's sales in Argentina expanded more than 17 percent in peso terms in the second quarter, with the mobile business rising 7.7 percent. Sales in Spain were little changed.
Even Telefonica's Argentine growth pales against the 55 percent advance of Clarin's pay-TV, Internet and phone business, its largest unit, in the first quarter. The company's shares have almost doubled in the past year on optimism that Macri's policies would lead to growth. Argentina's economy will grow 3.4 percent in 2017, after contracting this year, according to forecasts by JPMorgan Chase & Co.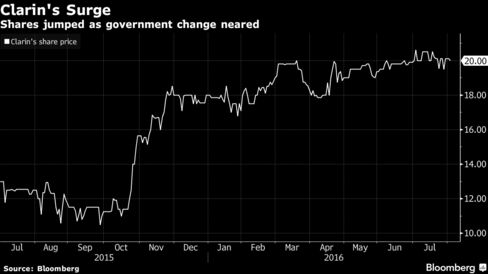 Telefonica was little changed at 8.45 euros at 2:27 p.m. in Madrid. Clarin dropped 2.7 percent to $19.55 in London.
Telefonica filed a complaint last month with the government criticizing Clarin's acquisition of five companies that own mobile-phone spectrum licenses. In the complaint, Telefonica alleges that Clarin wants to offer services it isn't entitled to, affecting its own rights. The two companies are already rivals as the owners of the country's two largest free-to-air TV broadcasters.
The rules for bundled services are part of a broader reversal of fortune for Buenos Aires-based Clarin since Macri took charge in December. Under the previous governments of spouses Nestor Kirchner and Cristina Fernandez, who governed successively for 12 years, Clarin was regularly criticized by the presidents and other officials, who accused the media company for tax avoidance and not paying workers enough. A Fernandez-dominated Congress also approved a media law that was widely perceived as aimed against Clarin.
Buenos Aires-based Clarin also owns Argentina's most widely circulated daily newspaper and runs the biggest cable-TV operation, with one of the two most-watched 24-hour news channels. The company held an initial public offering in London in 2007, when Argentina was locked out of international financial markets. The company's largest shareholder is Ernestina Herrera de Noble, the widow of Roberto Noble, who founded Clarin Group with a newspaper in 1945.
With Argentina's latest government have come new rules, some of them overriding the Fernandez law. Clarin has since been positioning itself to offer bundled services, purchasing the local assets of mobile service provider Nextel and also making spectrum acquisitions.
In its complaint filed with regulator Enacom, Telefonica says the companies Clarin bought own a combined 86 megahertz in capacity to provide so called Advanced Mobile Communication Services, surpassing the 60 megahertz limit the government sets on operators.
Representatives of Telefonica and Clarin declined to comment. Enacom is analyzing Telefonica's complaint but hasn't made any decision yet, said Agustin Garzon, a manager at the agency.
Telefonica's main rival, Telecom Argentina, has close ties to Clarin and hasn't complained about the media company's expansion plans. Investor David Martinez, who owns Telecom Argentina, is also a 40 percent shareholder in Cablevision, Clarin's cable-TV and Internet unit.
Telefonica is up against "strong local players," Gartner's Zlotogorski said.
Before it's here, it's on the Bloomberg Terminal.
LEARN MORE