ECB Bond-Buying Pace Slows for Portugal, Spain and Italy: Chart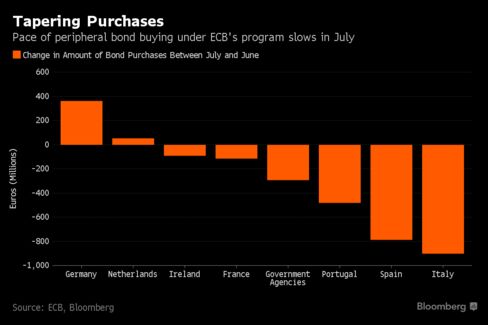 The European Central Bank reduced the pace of its bond buying from the peripheral nations of Italy, Portugal and Spain under its Public Sector Purchase Programme in July, while increasing it for Germany. Overall buying fell 3.3 percent last month from June, with purchases of Portuguese bonds totaling 958 million euros ($1.1 billion) being the lowest on record. The ECB "appears to run into restrictions for the Portuguese share, with purchases 600 million euros below the target implied by the capital key," analysts at Commerzbank AG wrote in a note.
Before it's here, it's on the Bloomberg Terminal.
LEARN MORE