China Oil Race Heats Up as Russia Weakens Saudi Dominance: Chart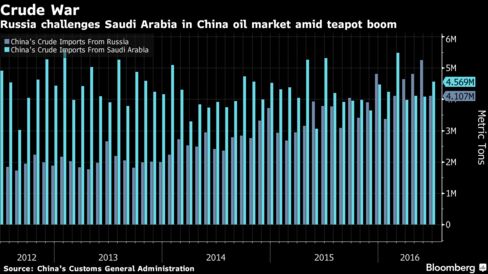 Saudi Arabia, after years of dominating sales to China, is being challenged by Russia for supplying the world's biggest energy consuming nation. The Asian country's monthly imports from the Middle Eastern kingdom have been exceeded by purchases from its rival oil producer seven times since May 2015, customs data compiled by Bloomberg show. The proximity of Kozmino port, from where Russia ships Siberian crude, to Qingdao, where Chinese private refiners known as teapots typically receive their supplies, has helped boost cargoes after the processors were allowed to use overseas oil last year.
Before it's here, it's on the Bloomberg Terminal.
LEARN MORE