Aussie Yield at 15-Year Low to Treasuries Says RBA to Cut: Chart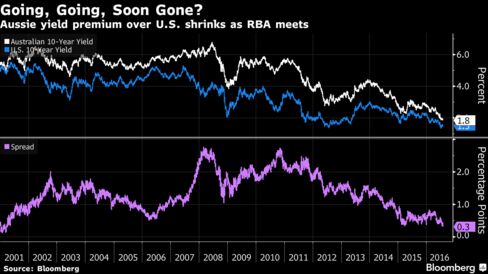 Australia's 10-year yield fell to a record low 1.83 percent as economists and swaps traders forecast the Reserve Bank will lower its cash-rate target on Tuesday to an unprecedented 1.5 percent. The sagging outlook for Australia -- the only major developed economy to avoid recession over the past 25 years -- has also helped shrink the premium its benchmark bonds offer over Treasuries to the narrowest since 2001. Policy makers Down Under are struggling to manage a transition away from mining to services at a time when global disinflation is spreading.
Before it's here, it's on the Bloomberg Terminal.
LEARN MORE