Spain 10-Year Yield Approaching 1% Shows Central Bank Supremacy
Yield spread to German bunds narrowest since December

Net supply this week to be 'deeply negative': Commerzbank
For Europe's higher-yielding bonds, a political stalemate in Spain and lingering concerns about Italian banks are proving to be no impediment as investors count on support from buying by the European Central Bank and loose monetary policy globally.
Spain's 10-year bond yields fell to a record-low level and approached 1 percent even with the country struggling to form a government after seven months of talks and two elections. Yields on similar-maturity Italian debt were little changed, after their longest run of declines in a month. German 10-year bunds -- haven assets that investors favor in times of turmoil -- declined. That pushed their yield compared with Spanish debt to the narrowest spread in more than seven months.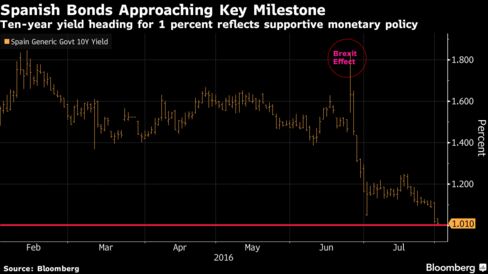 Spain is set to sell as much as 3.75 billion euros ($4.19 billion) in conventional and inflation-linked debt securities on Aug. 4. Investors are also awaiting sales from Germany and France. About 57 billion euros in interest and repayment of maturing debt will keep "net issuance deeply negative," according to Commerzbank AG. The ECB said Monday that it bought 69.7 billion euros of public debt in July, short of its 80 billion-euro monthly asset-buying target.
More Stimulus?
"From a supply perspective, starting on Friday we'll be in the really deep slow summer season, so there is no disturbance from that side," said David Schnautz, a fixed-income strategist at Commerzbank in London. "Even at the lower pace due to the seasonality, the ECB will still be active. The overall trend toward more stimulus remains in place."
The yield on Spain's 10-year bond was little changed at 1.02 percent as of 4:28 p.m. London time. It earlier dropped to a record-low 1.003 percent. Since July 18, the last day the yield rose, it has declined 22 basis points, or 0.22 percentage point. The price of the 1.95 percent security due in April 2026 was 108.57 percent of face value.
Spain's government debt has returned 3.9 percent since June 24, the last trading day before the repeat elections, according to Bloomberg World Bond Indexes. That compares with an average 2.4 percent earned by sovereign-debt securities across the euro area.
Italy's 10-year bond yield was at 1.18 percent, little changed after three days of declines.
Manufacturing Growth
The positive backdrop for government bonds was reinforced Monday with a report confirming manufacturing growth in the euro area slowed in July in the wake of Britain's vote in June to exit the European Union. A report later in the week will show retail sales stagnated in June, according to a Bloomberg survey of economists. The Bank of England is set to cut interest rates on Aug. 4 for the first time since 2009, according to a Bloomberg survey of analysts.
Germany's benchmark 10-year bond yield increased three basis points to minus 0.094 percent, leaving it 112 basis points lower than on similar-maturity Spanish debt. It earlier reached 110 basis points, the narrowest since December.
Before it's here, it's on the Bloomberg Terminal.
LEARN MORE