Merkel's Bavarian Ally Hints at Snub of Chancellor in 2017 Vote
Regional premier says he can't rule out running own platform

Seehofer leaves door open after German terror attacks
Chancellor Angela Merkel's main Bavarian ally said he may break with party unity and run a separate campaign in next year's German election, keeping pressure on Merkel to shift to a more restrictive refugee policy.
Bavarian premier Horst Seehofer, whose regional Christian Social Union traditionally fields a joint chancellor candidate with the Christian Democratic Union led by Merkel, said it isn't clear whether that will also happen in 2017. Failure to agree on a candidate and a joint election platform would free up the Bavarian party to campaign on a tougher line toward refugees and possibly improve its post-election leverage with the CDU.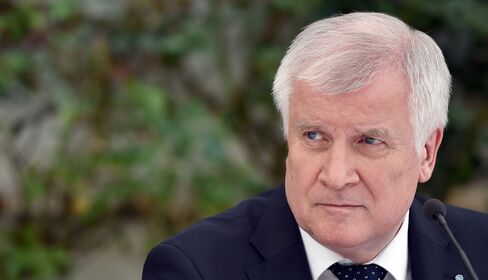 Asked in a ZDF television interview whether he could see his own face on federal election posters in Bavaria rather than Merkel's, Seehofer said: "Of course." While there's a "high probability that we will agree" on policy matters and a candidate, that outcome isn't assured, he said.
Seehofer, Merkel's main domestic antagonist during last year's refugee crisis, renewed his criticism after two attacks by asylum seekers in Bavaria in July that authorities say are tied to Islamic State. One assailant blew himself up at a music festival and another was gunned down by police after he attacked people on a train with an ax.
Merkel defended her open-borders stance on Thursday, repeating her stock phrase -- "We can do it" -- to insist that Germany is well-equipped to assimilate migrants and ensure public safety. Seehofer is demanding a cap on the number of refugees in Germany after last year's influx of more than 1 million.
"We can only manage security and integration if we don't accept an unlimited number of people," he said in the ZDF interview on Sunday.
Seehofer's implied threat is the latest twist in relations between the CDU, the leading West German party to emerge from the rubble of World War II, and the smaller CSU. While the CSU campaigns in Bavaria in national elections and the CDU puts up candidates in the rest of the country, the two parties have a joint caucus in the national parliament.
Combined support for the two parties held at 35 percent in a July 30 Emnid poll and the Social Democrats, Merkel's junior coalition partner, were unchanged at 23 percent. The anti-immigration Alternative for Germany party, which doesn't have seats in the federal parliament, jumped two points to 12 percent. No margin of error was provided for the July 21-27 poll of 2,815 people.
Before it's here, it's on the Bloomberg Terminal.
LEARN MORE