Upside surprises in sales. A dearth of dim words about the future. A pick-up in profit margins.
Those three factors, according to a Morgan Stanley team led by Chief U.S. Equity Strategist Adam Parker, are what investors have rewarded as the current earnings season unfolds.
Each of these elements either reveals or affirms features of the global macroeconomic backdrop or corporate and analyst behavior.
Turn up the (sales) beat
Companies that exceed expectations on in terms of top line revenue have outperformed firms that beat on profits.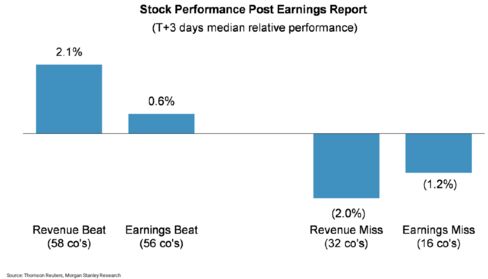 Throughout this expansion, Corporate America has proven more adept at cutting costs to buttress profitability than boosting sales.
In an environment of subdued growth in the U.S. and rest of world, investors are rewarding what's scarce.
But while headline growth figures imply that expanding sales have been relatively hard to come by, the economy's performance in the most recent quarter belies a rejuvenated U.S. consumer, as personal consumption expenditures rose at a seasonally-adjusted and annualized rate of 4.2 percent.
A large part of this consumption came out of inventories rather than second-quarter production. Nonetheless, the renewed strength in the U.S. consumer, if it continues, gives cause to believe top line performance will be more robust going forward.
A little positivity please
Meanwhile, in a continuation of a trend Morgan Stanley says has been in the works for several years, there's a sizeable gap in performance between firms depending on whether executives have become more optimistic or pessimistic about what's in store in the coming quarters.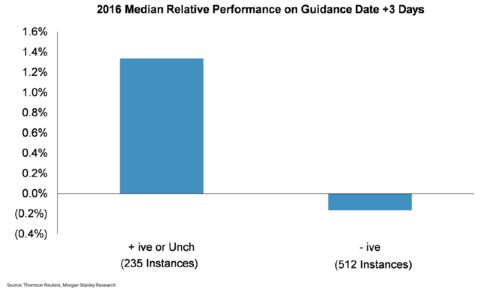 Perhaps a combination of the lofty earnings growth that analysts see in store for 2017 and the predictable pattern of expectations being lowered as each quarterly reporting season approaches has left investors especially willing to reward firms whose outlook for financial performance remains intact, at the very least.
"Consensus 2017 earnings growth expectations are at 14 percent, though we think it is too early to focus on what's embedded in next year's numbers given many analysts wait until early in the fall to sharpen their pencils on the out-year's estimates," adds Parker.
Improved margins
In addition, corporate profit margins appeared to have inched higher in the second quarter with over half of S&P 500 reported, which has proved a key source of support for those companies' share prices.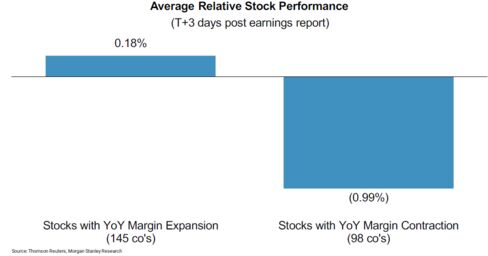 "The market appears to be differentiating on margins as stocks with margin expansion are being rewarded, and those with margin contraction are being punished," writes the strategist.
High profitability and the potential for mean reversion in margins has been cited by a plethora of analysts as cause to turn bearish on equities.
The ability of firms to mitigate any pressure on margins will depend on how much pricing power they have — and the reasons to be worried about profitability are swelling.
A greater share of national income in the U.S. is going to labor as wage growth accelerates and companies have a hard time finding qualified workers. Meanwhile, it's getting tougher to see the potential for another major input cost segment — commodities — moving lower in the same magnitude experienced during the slide that began in the second half of 2014.
Before it's here, it's on the Bloomberg Terminal.
LEARN MORE