HSBC's Beaten-Down Shares Meet Analysts' Price Target: Chart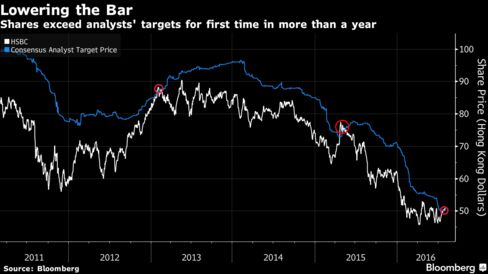 HSBC Holdings Plc's share price in Hong Kong exceeded analysts' consensus one-year price target for the first time in 14 months after the shock receded from the U.K.'s Brexit vote on June 23. The next catalyst will be the lender's second-quarter earnings, due on Wednesday, which will show whether HSBC cut costs faster than its revenue declined. Unfortunately, that's a race that Europe's biggest bank probably lost, according to a note from Barclays Plc analyst Kiri Vijayarajah.
Before it's here, it's on the Bloomberg Terminal.
LEARN MORE