Argentina's Fernandez Says She Deserves a Nobel Prize in Economics
Former president condemns any corruption during her term

New government has slashed calculations of past GDP growth
A debt default. Dodgy economic statistics. International Monetary Fund sanctions. Argentina's former President Cristina Fernandez de Kirchner says it's time she got a Nobel Prize for how she handled South America's second-largest economy.
In an interview with C5N television she criticized President Mauricio Macri and blamed him for a deepening recession and inflation near 50 percent. She also condemned any possible corruption that may have taken place during her eight years in office and denied any wrong doing herself.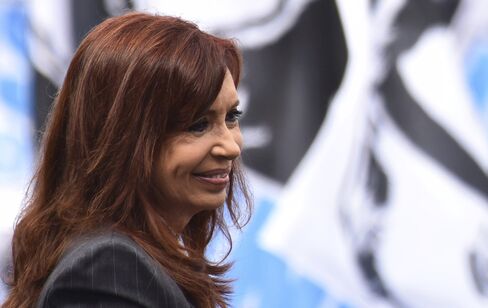 "Instead of having the courts chase us, they should be giving us a Nobel prize for economics," Fernandez, 63, said. "We inherited a country in default and we left it without any debt. "
Argentina's economy expanded an average 3.4 percent a year during Fernandez's term in office after she taxed booming soy and wheat exports to fund subsidies for consumer services. At least that is what her government calculated. The period was marred by a second credit default in 13 years and sanctions from the IMF for manipulating the macro-economic data. The new administration has revised growth over the period to an average of 2 percent.
The economy entered a recession in her last months in office that has continued through the second quarter.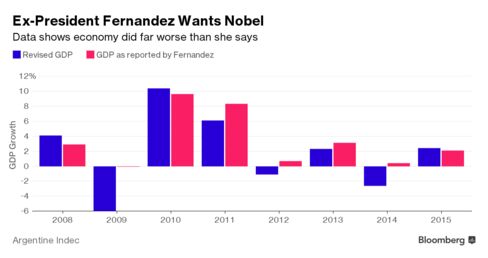 There was also controversy over inflation. Price-growth averaged 25.3 percent between October 2008 and September 2015, according to PriceStats, which compiles data for MIT's Billion Prices Project, while Fernandez's administration estimated inflation of about 10 percent for much of the period.
Fernandez and many of her top cabinet members have been the subject of investigations about the handling of government funds during her administration. Kirchner hasn't been accused of any crimes and has denied she ever knew of any misuse of public money.
Before it's here, it's on the Bloomberg Terminal.
LEARN MORE