Mumbai Home Price Recovery Is Two Years Away, Indiabulls Says
A glut of new properties is weighing on prices, firm says

Indiabulls Asset seeks to raise $300 million in property fund
Home prices in Mumbai may take a couple of years to resume gains amid a glut of unsold properties, according to Indiabulls Asset Management Co., an investor in residential projects.
Mumbai's property sales have been sluggish as prices in India's most expensive market continue to hover near a record reached in December 2014, crimping affordability and denting demand. Even as sales picked up in the first quarter, Mumbai still had 266 million square feet of unsold homes, according to Liases Foras Real Estate Ratings & Research Pvt.
"Home prices will languish in Mumbai for another couple of years even as we are seeing a pickup in sales," Ambar Maheshwari, chief executive officer of private-equity funds at Indiabulls, backed by India's second-largest home-finance company by value, said in an interview. "Another two years of volume growth will help absorb some of the unsold inventory and then we will see prices climb."
Private-equity firms are stepping in to fund developers as they struggle to complete construction of homes as risk-averse banks, saddled with bad debts, pull back on lending. Indiabulls Asset is seeking to raise about $300 million in its real estate funds over the next year and is currently marketing its second domestic pool after raising 6 billion rupees in its first vehicle. It also plans to raise as much as 10 billion rupees from non-resident Indians and a $250 million offshore fund later in the year.
Building Boom
A building boom has left India's biggest cities with a record level of homes awaiting buyers as prices soared and that will take about five years to sell in Mumbai, according to data from Liases Foras, a property consultancy and advisory firm. Delhi and its neighboring areas, which had 393 million square feet of unsold stock as of March, the highest in the country, will take up to six years to sell.
Sales in Mumbai rose 10 percent in the three months ended March 31 from the earlier quarter, according to data from Liases Foras. New projects marketed by developers climbed 23 percent from the previous quarter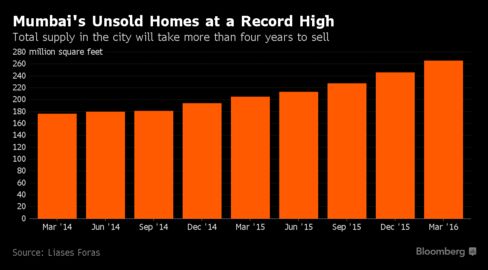 Home prices in Mumbai are trading near the record 13,105 rupees ($195) a square foot reached in the quarter ended Dec. 31, 2014, according to Liases Foras data. Prices in Delhi are down 6.6 percent from a September 2014 record.
Prices in Delhi and its surrounding areas, referred to as the National Capital Region, may take up to three years to recover as the stock of unsold homes is huge, Maheshwari said.
Indiabulls Asset's funds will target a gross internal rate of return above 20 percent by investing in structured debt instruments and will focus on residential projects in India's top cities. Indiabulls Asset is seeking to raise $1 billion for private-equity funds, predominantly real estate, in the next five years, the firm had said last year.
Indiabulls Asset has invested in five residential projects, two each in Delhi and Mumbai, and one in South India, Maheshwari said.
Before it's here, it's on the Bloomberg Terminal.
LEARN MORE