Doomsday Luck for Man at Center of Global Oil Demand Growth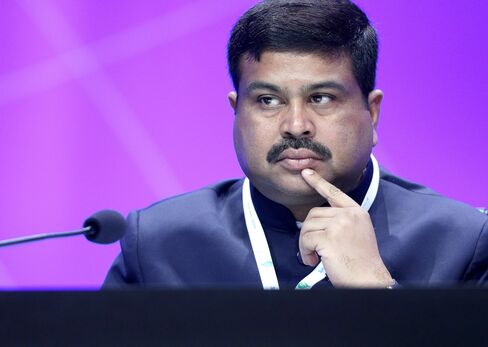 Dharmendra Pradhan faces task of securing India's crude needs

Nation's oil consumption set for fastest growth in the world
The doomsday crude market is a blessing for India's Oil Minister Dharmendra Pradhan.
The nation of 1.3 billion people is guzzling ever more oil as the fastest economic expansion among major economies spurs increased use of trucks, cars and motorbikes. The slump in crude is giving Pradhan, 47, the chance to drive hard bargains for stakes in foreign fields as well as prod India's state-run energy companies to step up exploration while industry costs are low.
The $2 trillion economy gets about 80 percent of its oil and gas from overseas. Local production has been declining as some fields mature. Pradhan took office just over two years ago, when Prime Minister Narendra Modi swept to power in a landslide. Brent crude has tumbled roughly 60 percent since then.
"This is the best ever window available to India," said Swagat Bam, an adviser at the New Delhi-based Observer Research Foundation. "Valuations of global assets are low and exploration costs have crashed. India must do all it takes to reverse its fortunes in the next few years."
Read how the casualties of the U.S. shale bust are being offered a new frontier in India.
Brent has declined about 15 percent in the past year and was at $41.92 a barrel at 12:32 p.m. New York time on the London-based ICE Futures Europe exchange on Monday.
In the quest for energy security, Indian investment in Russian oil projects is heading toward $6 billion. Indian companies have already spent as much as $6 billion on a gas field off Mozambique. State-owned gas distributor Gail India Ltd. in April became the first Asian company to buy shale gas from the U.S.
Pradhan's longer-term goal is to curb India's dependence on energy imports.
"My ministry is committed to reduce import dependence by 10 percent by 2022," he said in a speech for the Bloomberg Address in New Delhi on Monday. "I have a plan to reduce import dependence, by augmenting domestic production and moving toward biofuels."
Four charts illustrate the serendipity of the global energy glut for India.
India is expected to surpass Japan as the world's third-largest oil user this year and will be the fastest-growing crude consumer in the world through 2040, according to the Paris-based International Energy Agency.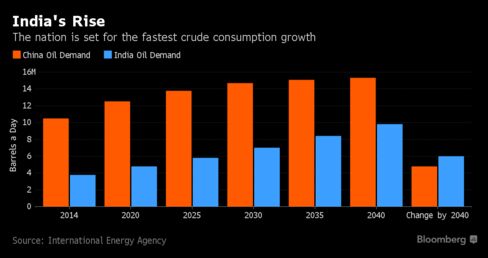 State-run Oil & Natural Gas Corp. dominates exploration and production in the South Asian nation. Faced with maturing large fields, the company has struggled to stem the drop in India's oil output in recent years.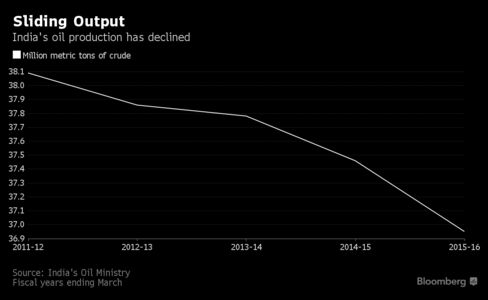 Taken together, India's top state-run oil companies are a fraction of the size of global peers.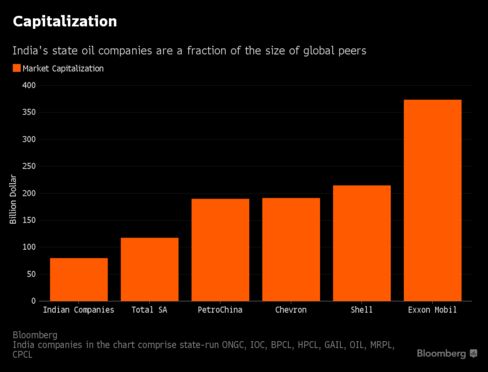 India's proven oil reserves are by far the smallest in the BRIC nations. India is now emerging as a major buyer of stakes in Russia's energy assets.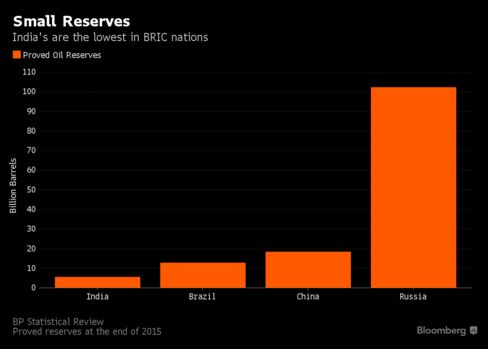 Before it's here, it's on the Bloomberg Terminal.
LEARN MORE