Mizuho Profit Falls as Negative Rates Squeeze Lending Income
Bank shares surged after BOJ kept benchmark rate at -0.1%

Mizuho slowed sales of cross-shareholdings, reducing gains
Mizuho Financial Group Inc.'s first-quarter profit fell 16 percent as negative interest rates eroded lending income and the bank slowed sales of its shareholdings.
Net income dropped to 132.6 billion yen ($1.3 billion) in the three months ended June 30 from 158 billion yen a year earlier, Japan's third-biggest lender by market value said in a statement on Friday. That beat the 116.8 billion yen average estimate of five analysts surveyed by Bloomberg.
Mizuho released its results hours after the Bank of Japan refrained from taking rates further below zero and unveiled steps to make it easier for lenders to obtain dollar funding, sending bank stocks soaring the most since February. Profit at Japan's lenders has come under pressure since the BOJ began charging them 0.1 percent for a portion of their cash parked at the institution to help end deflation and revive the world's third-largest economy.
"The moves announced by the BOJ are all positive for banks," Takashi Miura, an analyst at Credit Suisse Group AG in Tokyo, wrote in a note. "We believe the market will interpret this as an indication a rate cut further down the road is now less likely."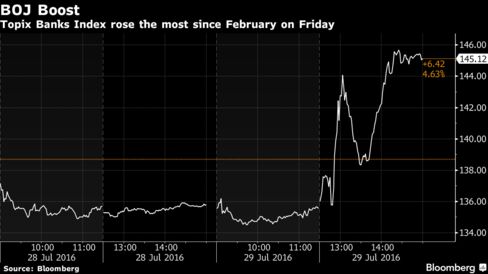 Shares of Mizuho jumped 5.7 percent at the close in Tokyo before the earnings announcement, paring this year's decline to 31 percent. The Topix Banks Index surged 6.9 percent, the most among the 33 industry groups on the benchmark Topix, which rose 1.2 percent.
Here are key figures from Mizuho's results:
Lending profit decreased 16 percent to 215.6 billion yen.
Fees and commissions fell 3.2 percent to 131.9 billion yen.
Bond and securities trading profit dropped 4.4 percent to 80.9 billion yen.
Gains on stock holdings slumped 78 percent to 13.6 billion yen.
Credit-related costs were a slightly larger reversal of 5.3 billion yen compared with 5 billion yen a year earlier.
Mizuho left unchanged its full-year forecast for net income of 600 billion yen. Its first-quarter profit represented 22 percent progress toward the target.
The Bank of Japan expanded its purchases of exchange-traded funds and doubled the size of a U.S. dollar lending program to $24 billion to support Japan companies' overseas activities. The central bank also unveiled a facility to enable banks to obtain dollar funding with government securities pledged as collateral, which may help lenders including Mizuho pursue more business abroad.
For more on the Bank of Japan's decision, click here.
"This is essentially the BOJ providing U.S. dollar funding to Japanese banks, which is good for the banks," said Michael Makdad, a banking analyst in Tokyo at Haitong International Securities Group Ltd. "There are few possibilities in Japan so they're trying to expand overseas but then they have to get funding."
Mizuho's gains from sales of shareholdings fell as the bank slowed the pace at which it's been trimming its stakes in client companies amid a stock-market slump. Japan's biggest banks pledged last year to cut so-called cross-shareholdings as part of Prime Minister Shinzo Abe's efforts to improve corporate governance.
Led by Chief Executive Officer Yasuhiro Sato, Mizuho is the second of Japan's three biggest lenders to report first-quarter earnings. Sumitomo Mitsui Financial Group Inc. said Wednesday that net income fell 31 percent to 184.3 billion yen as lower lending income overshadowed a boost in trading profit. Mitsubishi UFJ Financial Group Inc., the nation's largest bank, will release results on Monday.
Before it's here, it's on the Bloomberg Terminal.
LEARN MORE