Former Irish Bankers Go to Prison After Longest Trial
Three sentenced to eight years and three months in total

All three convicted of conspiring to defraud customers
Three former senior Irish bankers were sentenced to a total of more than eight years in prison in Dublin after being convicted of conspiring to defraud customers and investors during the financial crisis.
Irish Life & Permanent Plc's former chief executive officer, Denis Casey, and two former executives at Anglo Irish Bank Corp., Willie McAteer and John Bowe, were convicted in June after the longest criminal trial in the country's history. All three had pleaded innocent to charges they helped created a false impression of the financial health of Anglo Irish Bank through facilitating a circular payment in 2008.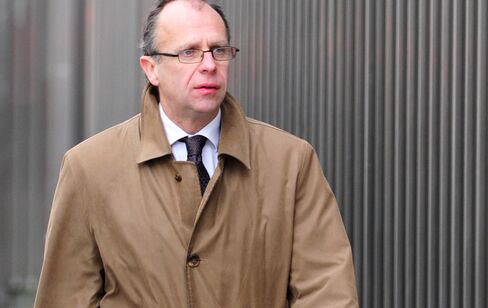 Casey, 56, was sentenced to two years and nine months, Bowe, 52, received a two-year sentence. McAteer, 65, will serve three years and six months.
During the crisis, Anglo Irish "had huge difficulties in getting money from anyone, bank or non-bank, to keep it going," prosecutor Paul O'Higgins told the jurors at the start of the trial in January. The circular deposits, routed by Anglo Irish through a life assurance unit of Irish Life & Permanent and back to the ailing bank, disguised the fact that the bank's deposits were actually "falling at a rate that was likely to alarm those looking at Anglo," he said.
A former Irish Life & Permanent executive, Peter Fitzpatrick, was acquitted of all charges last month.
(
Corrects Peter Fitzpatrick's former employer in last paragraph.
)
Before it's here, it's on the Bloomberg Terminal.
LEARN MORE