Danone Earnings Exceed Estimates on Higher-Priced Yogurt
Second-quarter sales growth of 4.1% beats analysts' estimates

French yogurt maker to revamp Activia brand to spur growth
Danone, the world's largest yogurt maker, reported first-half earnings that beat analyst estimates as a revamp of its Actimel and Danonino brands and higher-priced dairy products offset lower-than-expected volume.
Adjusted operating income rose 7 percent to 1.48 billion euros ($1.6 billion), the Paris-based company said in a statement Thursday. Analysts expected 1.4 billion euros. Like-for-like sales advanced 4.1 percent in the second quarter, exceeding the consensus, even though volumes gained 1 percent, missing the 1.3 percent estimate. The shares rose as much as 2.5 percent in Paris.
"It's a very healthy beat, and I think that's really going to reflect well on the company," said Robert Waldschmidt, an analyst at Liberum Capital in London. "They're on the right path for improving the dairy segment. It's going to take time, but they're making decent progress."
Danone has tweaked some of its dairy products to counter years of sluggish consumption in western Europe, helping fuel a 5.2 percent increase in pricing in the quarter. The maker of Evian bottled water also agreed to buy WhiteWave Foods Co. for $10 billion this month, a move that could double the size of the company's U.S. business and make it the global leader in organic food and drinks.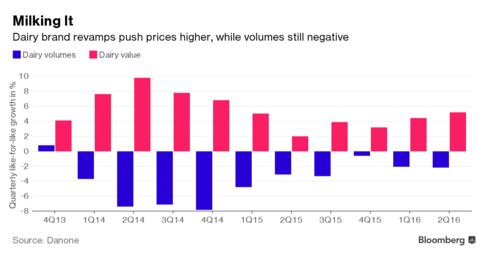 Dairy like-for-like sales rose 3 percent in second quarter on improvement in Europe and North America, beating estimates
Actimel's relaunch included new slogan, "Stay Strong," after European regulators prohibited marketing the probiotic product as an immunity-booster
Dairy volumes down 2.2 percent, falling for the 10th consecutive quarter
The company hasn't taken price increases with the exception of places like Brazil due to inflation, Chief Financial Officer Cecile Cabanis told analysts
Danone reiterated its forecast for sales growth and operating margins
Before it's here, it's on the Bloomberg Terminal.
LEARN MORE