Europe's Top Property Manager Takes Tokyo Profit as BOJ Eases
Axa liquidated about $200 million Japan office property fund

'Bit of disconnect' between capital values, real economy: Axa
Axa SA's real estate investment unit sold off Japanese office property earlier this year, generating a return of more than 20 percent since 2012. It's in no hurry to restart a similar fund as it sees a mismatch between the real economy and Bank of Japan-generated property gains.
"As of February this year, we have liquidated the entire fund" of about $200 million, said Frank Khoo, the global head of Asia at Axa Investment Managers-Real Assets in an interview in Tokyo. "My view that is there is a bit of a disconnect between capital values and the real economy. If you look at the real economy, it is probably not as strong as people perceive it to be."
The BOJ's negative interest rate policy is increasing demand among fixed-income buyers for investments outside bonds, and is making banks the most willing they've been in a quarter of a century to offer property loans. Prime office prices in Tokyo have risen almost 60 percent to March since the start of 2013, according to Daiwa Real Estate Appraisal Co. data, even as consumer prices in the nation have begun falling again. The BOJ, which is also buying real estate investment trusts as part of its stimulus program, meets Friday, with most economists expecting it to expand its record asset purchases.
"Real estate prices are already relatively high, but increased lending to the industry is likely to fuel further increases," Credit Suisse Group AG analysts Masahiro Mochizuki and Yasuko Fukuda wrote in a report earlier this month. Willingness by Japanese banks to lend to all sizes of real estate companies reached its highest since 1989, according to BOJ data cited by Credit Suisse.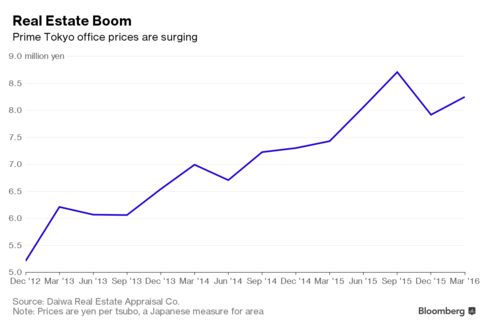 Falling Yields
Expected yields on office property in Tokyo, or the ratio of annual rental income to the purchase price of the property, fell to 3.7 percent in the first quarter, the lowest since at least 2000, according to the Japan Real Estate Institute. That still compares with yields below zero on Japanese government bonds out to 15 years, and an average yield of 0.1 percent on the nation's corporate debt, according to Bank of America Merrill Lynch data.
"I don't think you are going to see a correction any time soon" in prices in Japan's property market, Axa IM-Real Assets' Khoo said. "There is just too much liquidity in the market."
Axa IM-Real Assets is the largest asset manager in direct property in Europe, and had 65 billion euros ($72 billion) of assets at the end of March, according to the company's website.
The liquidated fund was set to close next year and invested in mid-sized Tokyo office properties, according to Khoo. In addition to managing money for third-party clients in Japan, Axa IM-Real Assets also buys real estate or provides loans to borrowers using cash from the group's Japanese insurance life unit, which is switching some money from JGBs too, he said.
Prefer Residential
Axa's Japanese life insurance unit had more than $60 billion in invested assets at the end of March, according to company's regulatory filings. Khoo's business bought three residential properties in northern Japan last year with funds from the insurer, and is currently looking at purchasing a number of housing projects. Residential is more defensive than office, and there is less competition outside Tokyo, Khoo said.
Axa IM-Real Assets is also lending to smaller Japanese REITs and foreign buyers of the nation's property to get higher yield premiums. It is getting spreads of about 150 basis points on loans, he said.
Purchases of Japanese property by foreigners have plunged in the first half of the year as prices have gone up and yields down, according to Shigeo Hirayama, a managing executive officer at Urban Research Institute Corp., a unit of Mizuho Financial Group Inc., Japan's third-largest lender. They fell to 48.4 billion yen ($462 million) in the six months to the end of June, down 90 percent from the previous half, he said.
"Overseas investors bought Japanese property when the market was bad," said Urban Research Institute's Hirayama. "They're now locking in profits."
Before it's here, it's on the Bloomberg Terminal.
LEARN MORE