Rising Prices to Keep Pakistan Central Bank Chief 'Cautious'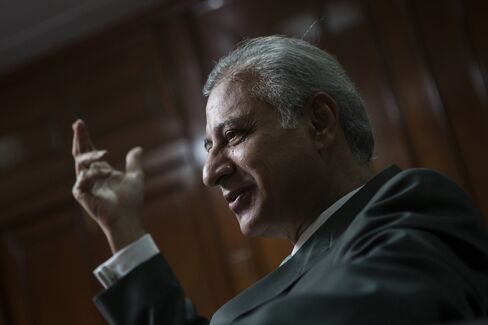 Pakistan's central bank keeps inflation forecast at 5%

IMF loan program helped Pakistan become 'disclipled': Wathra
Pakistan's central bank, which is set to review policy on Saturday, will be "cautious" in changing its benchmark rate as inflation accelerates in the nation.
The State Bank of Pakistan unexpectedly cut the target policy rate to 5.75 percent from 6 percent on May 21, prompting a call from the International Monetary Fund to "tighten policy if needed," after inflation quickened in April at the fastest pace since December 2014 before slowing the following month.
"With the possibility that there could be an increase in inflation, so we have to be cautious at this time making a move either way," Governor Ashraf Mahmood Wathra said in an interview in his office in Karachi on Thursday. The central bank looks at longer-term inflation when setting rates as "one could not draw a conclusion on one month's inflation," he said.
Asian central banks from South Korea to Sri Lanka have tightened or left interest rates unchanged over the past month as oil prices rebounded more than 50 percent from 2016 lows. The State Bank of Pakistan, which is looking to adopt an inflation targeting regime, forecasts consumer price increases to average 5 percent in the year that began July 1 from a 46-year low of 2.86 percent the previous year.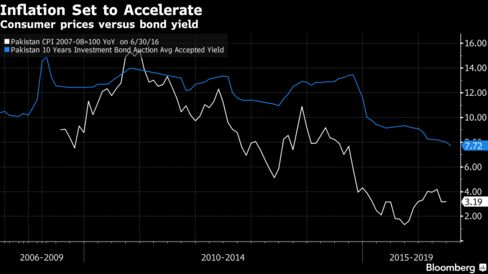 "Consumer spending will build up into inflation expectations this year," Saad Khan, economist at Karachi-based IGI Finex Securities Ltd., said by phone. "Commodity prices are starting to rise, while food is also showing an upside."
The Pakistan central bank will keep the rate unchanged when it unveils its decision on Saturday, according to nine of 10 economists in a Bloomberg survey. One forecasts a reduction in the rate to 5.5 percent. Sri Lanka on Thursday raised its benchmark interest rate for a second time this year, while South Korea's central bank held its rate at a record low.
Pakistan's monetary authority has assumed oil at $48 a barrel for the year that began July 1 in its forecasts. The nation's finances will be affected should oil rise above $70 a barrel, Wathra said. Brent crude prices for September settlement, which expires Friday, fell 44 cents to $43.03 a barrel on the London-based ICE Futures Europe exchange.
Wathra said the IMF's $6.6 billion loan program helped the nation become "more disciplined especially on the fiscal side."
'Working Well'
Pakistan set up a Monetary Policy Committee this year to decide interest rates and is working on targeting inflation, though a decision on an aimed pace is unlikely this year, he said. The government has managed to increase tax collection and started importing liquefied natural gas to ease an energy crisis in the past three years since the IMF program began.
"I hope we maintain that fiscal prudence and continue the reforms," Wathra said.
Wathra said for Pakistan bilateral exchange rates are more important than real effective exchange rates after the IMF said the nation's currency was overvalued by as much as 20 percent. The rupee has fallen 2.9 percent in the past year and was little changed at 104.835 per dollar on Thursday.
"It's working well for us," Wathra said, when asked if the rupee is fairly valued.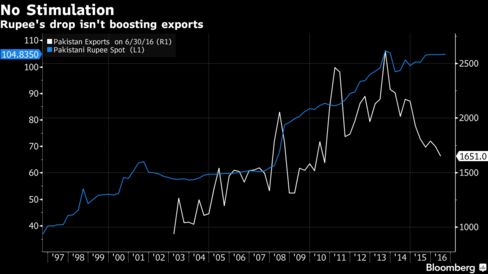 Wathra forecasts exports, which fell to the lowest in six years in June, will increase in the year that began on July 1.
Exports growth "may not be substantial but we do expect some growth and surely that decline should stop," said Wathra.
Before it's here, it's on the Bloomberg Terminal.
LEARN MORE