Why Economists Are Better Than Markets at Telling You How the Economy Is Doing
Trust the wisdom of Mundell-Fleming, not the wisdom of crowds.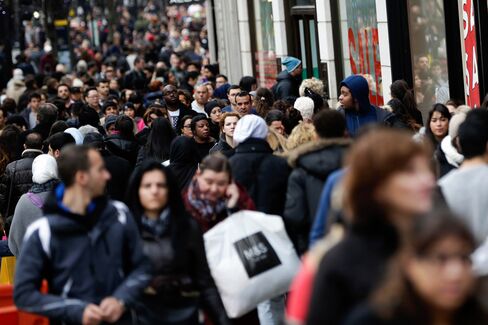 If you want to know how the economy is doing, trust an expert rather than the financial markets, says a team led by Paul Donovan, UBS Ltd.'s managing director of global economics.
That might sound a bit self-serving coming from someone in the profession, but let's hear him out:
Financial markets place an immense amount of weight on economic data, but far less to their more accurate revisions. In other words, markets take the strongest signal from releases that are most likely to be noise. Compare those initial-release data with economists' educated guesses, and the latter wins out.
"Economic models are based (as closely as possible) on a view of the world as it really is, not a view of the world as guestimated in the initial data release," he writes. "Economists' assessments and projections are more likely to mirror economic reality."
As proof, UBS charted a number of traditional economic surprise indexes along with how the latest post-revision data stacked up to the consensus estimate.
Their report, published on Friday, indicated that the preponderance of these data tend to be revised higher, suggesting financial markets have been persistently pricing in a more downcast macroeconomic backdrop than really exists. This raises a litany of questions — not least for a Federal Reserve that relies upon markets to both reflect and influence the outlook for growth.
"This analysis suggests that central banks should be very, very wary of overemphasising markets in their policy deliberations," writes Donovan. "In particular the predictive powers of financial markets should be treated with considerable caution. Markets are not always rational, nor are they omniscient, nor are they always particularly well grounded in economic reality."
The magnitude of revisions to economic data, in some instances, is such that popular narratives about how nations are faring can be turned on their heads.
Prior to the second coming of Shinzo Abe in Japan in 2012, growth figures had actually been exceeding expectations, rather than trudging along slightly below the consensus forecasts, as the initial prints suggested. Meanwhile, as international agencies hailed the U.K.'s rise to becoming the fastest-growing economy among G7 nations in 2014, the actual pace of the expansion later proved to be underwhelming, relative to what had been heralded.
Most glaringly, worries that the U.S. was at risk of slipping into a deflationary spiral, which crescendoed amid the collapse in oil prices, haven't been borne out by the most revised (and accurate) data.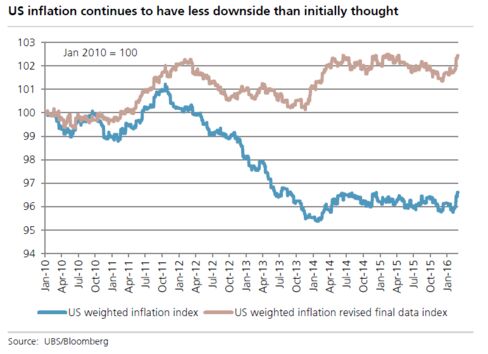 "The whole disinflation / deflation psychology of financial markets seems to have been built on foundations of what can politely be termed 'dodgy data,'" writes Donovan.
UBS' analysis, however, ends on a gloomier note, highlighting a burgeoning disconnect between perception and reality in the world's largest economy. For instance, Citi's economic surprise index for the U.S. has recently hit levels not seen since September 2014. However, the final revised data show the extent of this outperformance is not nearly as awe-inspiring, per UBS: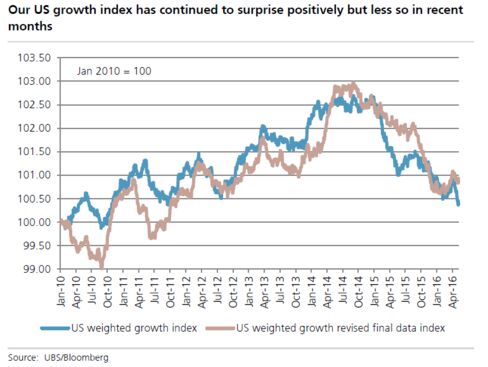 "It is also worth remembering how frequently the revisions are coming through," concludes Donovan. "The recent very strong positive revisions to U.S. growth have melted away in the space of a couple of months."
Before it's here, it's on the Bloomberg Terminal.
LEARN MORE