Statoil Suffers Surprise Loss Amid Collapse in Oil Prices
Spending for 2016 cut to $12 billion from $13 billion earlier

Net debt ratio exceeds 30% as Statoil maintains dividend
Statoil ASA deepened spending cuts after Norway's biggest oil producer reported an unexpected loss amid lower crude prices and taxes on unprofitable international operations.
The adjusted loss after tax, which excludes financial and other items, was $28 million in the second quarter after a profit of $929 million a year earlier, the Stavanger-based company said Wednesday. That missed the average estimate of 16 analysts for a profit of $294 million.
"The results were strongly affected by weak oil and gas markets," Statoil Chief Executive Officer Eldar Saetre told reporters in Oslo. Refining margins also fell by almost half from a year earlier, producing a disproportionate effect on already low earnings, he added in an interview.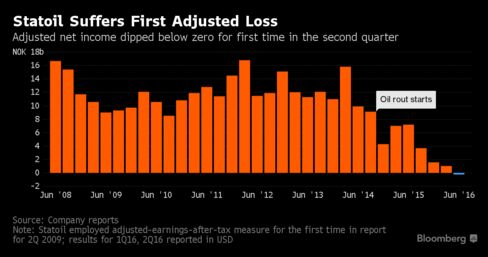 Statoil, which is 67 percent owned by the Norwegian government, has followed rivals such as BP Plc in slashing spending and reducing costs to protect cash flow and preserve shareholder payouts. The company cut its capital expenditure to about $12 billion this year from an earlier target of $13 billion. That's 40 percent lower than record spending of $20 billion in 2014.
Statoil's shares fell as much as 4.1 percent and were down 2.7 percent to 139 kroner as of 11:51 a.m. in Oslo. That made the stock the worst performer on the 20-company STOXX Europe 600 Oil & Gas Index and pared this year's gain to 12 percent.
Click here for Statoil CEO Saetre's view on the oil market
The company's adjusted loss was the first for that earnings measure in figures going back to 2008. The loss reflects an effective tax rate of 103.1 percent, up from 67.8 percent a year earlier. Statoil's adjusted net loss at its international unit tripled to $549 million from a year earlier, while profit at its Norwegian unit fell to $436 million from $705 million.
"'We're paying taxes in some countries where we're losing money," Chief Financial Officer Hans Jakob Hegge said in an interview, citing Algeria, Azerbaijan, Angola and Nigeria. "It's especially marked by a poor result in the international unit."
'Weak Results'
The average estimate among analysts for Statoil's 2016 earnings per share could fall as much as 40 percent and by as much as 3 percent for next year as a consequence of the company's "weak results," Helge Andre Martinsen, an analyst at DNB ASA, said in a note to clients.
Statoil will pay a dividend of 22 cents a share for the second quarter, in line with the board's intention of keeping payouts flat for the first three quarters of the year. It continued a scrip program allowing owners to take payouts in shares.
Net debt to capital employed rose to 31.2 percent from 28.1 percent three months ago. While Statoil is "comfortable" at these levels, the company will seek to get back within a range of 15 percent to 30 percent, Hegge said Wednesday. There is no time frame for these efforts, he said. The company's main focus will be further cost cuts, but it could also sell assets and continue cutting capital expenditure next year if necessary, Hegge said.
Exploration Spending
While Statoil maintained a target of $2.5 billion in annual savings for 2016, it further cut its exploration spending for the year to $1.8 billion from an earlier target of $2 billion.
The company, which dominates oil and gas production in its home country even as it has expanded internationally, produced 1.959 million barrels equivalent a day of oil and natural gas in the second quarter. That compared with 1.873 million a year ago and a forecast of 1.915 million in an analyst survey conducted by Statoil.
BP on Tuesday reported a 45 percent slump in earnings and missed analyst estimates, hurt by weaker refining margins in addition to lower oil prices. Royal Dutch Shell Plc and Total SA will publish earnings on Thursday, and Exxon Mobil Corp. and Chevron Corp. on Friday.
While oil prices rebounded in the second quarter to average $47.03 a barrel for the Brent benchmark, up from a 12-year low of $27.10 in January, crude's recovery has showed signs of fading over the past weeks as huge stockpiles remain. The International Energy Agency said earlier this month that "the road ahead is far from smooth."
Before it's here, it's on the Bloomberg Terminal.
LEARN MORE