Japanese Stocks Gain, Yen Drops on Abe Stimulus Package Report
Japanese shares rose for the first time in four days and the yen slid following a report Prime Minister Shinzo Abe plans a stimulus package of more than 28 trillion yen ($265 billion) in a bid to prop up the economy.
The Topix index added 1.1 percent to 1,321.67 at the close in Tokyo, while the Nikkei 225 Stock Average climbed 1.7 percent. The yen lost 0.8 percent to 105.53 on Wednesday after touching 103.99 yesterday. Abe, speaking in the southern city of Fukuoka in the afternoon, said the fiscal stimulus measures would be compiled next week, Kyodo News reported, ahead of a Bank of Japan decision on monetary policy on July 29.
"Investors are thinking that if the government is going to do fiscal stimulus, then the BOJ will announce monetary stimulus at its meeting," said Koichi Kurose, Tokyo-based chief market strategist at Resona Bank Ltd. "We don't know the details of the fiscal spending yet, but the size of it is bigger than what the market expected."
Japanese equity and currency traders are looking for signals on whether the BOJ will add to its already unprecedented easing at the end of this week. The government's fiscal measures will include 13 trillion yen in low-interest loans, broadcaster FNN reported earlier. The package must be presented to parliament, where approval is a formality because the ruling coalition has a majority in both houses.
Stimulus Reports
Markets in Tokyo have whipsawed in recent weeks as traders tried to better position themselves ahead of the BOJ meeting and amid the various reports of a government stimulus package.
The Nikkei newspaper reported on Wednesday that top BOJ officials are looking at multiple proposals including cutting interest rates further into negative territory, expanding government bond buying beyond 80 trillion yen annually and boosting purchases of other assets such as exchange-traded-funds. Also today, the Wall Street Journal reported that the government is considering issuing 50-year bonds, prompting speculation Japan will adopt helicopter money. The Ministry of Finance later denied the report.
"The market reacted on anticipation that both the Bank of Japan and the government will move at the same time, creating something approaching helicopter money," said Takuya Takahashi, a Tokyo-based senior strategist at Daiwa Securities Group Inc. "Expectations for the 50-year bonds have retreated now, but optimism for stimulus hasn't changed much apart from that."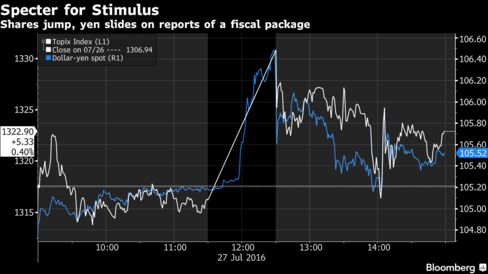 Investors are also weighing corporate earnings, with the number of firms posting results set to peak this week. Mobile messaging services company Line Corp., gamemaker Nintendo Co. and lender Sumitomo Mitsui Financial Group Inc. are among companies reporting on Wednesday.
Consumer lender Orix Corp. jumped 2.8 percent after posting net income that beat estimates.
Apple Inc. supplier Minebea Co. surged 14 percent in Tokyo. Apple forecast fourth-quarter sales that may exceed analysts' estimates amid a pick up in iPhone demand and as consumers warm to the company's new low-priced smartphone model. Alps Electric Co., which makes actuators and switches for smartphones, added 5.8 percent.

Itochu Corp. slumped 6.3 percent after activist short-seller Glaucus Research Group published a report on the Japanese trading house, criticizing the company's accounting and saying its shares are poised to plunge. Itochu follows correct accounting procedures, it said in a stock exchange filing responding to the report.
The Federal Reserve also meets this week for a decision on interest rates. Futures on the S&P 500 Index added 0.2 percent on Wednesday, while the underlying measure was little changed Tuesday. U.S. housing data showed the biggest gain in new-home sales in eight years, spurring optimism in the economy and raising speculation the Fed may strike a more hawkish tone on rates.
"The market had fallen for three days so it's an opportunity to buy," said Seiichi Miura, a strategist at Mitsubishi UFJ Morgan Stanley Securities Co. in Tokyo. "Even though we may not get helicopter money, the BOJ could still announce something that sends stocks higher. Investors should be scared to sell."
Before it's here, it's on the Bloomberg Terminal.
LEARN MORE