California Faces Power Shortages as Heat, Outages Cut Supply
State report warned of potential blackouts this summer

Power system operator asks households to conserve energy
California is facing electricity shortages as abnormally high temperatures and plant outages challenge a region already grappling with limited natural gas supplies and a drought. Power prices surged on Wednesday to the highest level in almost two years.
The manager of the state's power system called on generators to suspend maintenance through Friday night, while also asking consumers to conserve energy. More than 3,700 megawatts of power generation capacity was offline Wednesday, up 19 percent from a day earlier, according to the California Independent System Operator.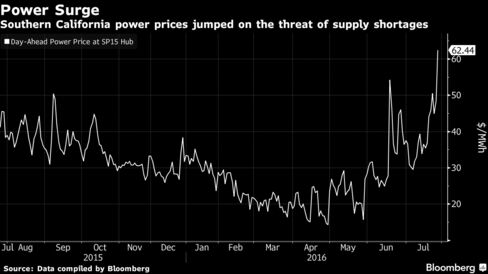 The threat of shortages adds to the mounting challenges that California's power market is facing this summer. The state has warned that Southern California may see blackouts on as many as 14 days after a massive natural gas leak at a Sempra Energy complex limited supplies to electricity generators. PG&E Corp. has also had to close some storage wells, and a historic drought has plagued the western U.S. in recent years, curbing hydropower resources.
"Generation resources may be inadequate," the California Independent System Operator said in its notice restricting maintenance on Thursday.
On-peak, day-ahead power at a Southern California hub surged 29 percent to average $62.44 a megawatt-hour Wednesday on the Intercontinental Exchange, the highest level since September 2014.
Gas Leaks
The capacity from a unit at the Redondo Beach power plant in Southern California was curtailed as of Wednesday afternoon by almost 500 megawatts, and capacity from the Big Creek hydropower complex was down by about 380 megawatts, according to a California Independent System Operator report.
Temperatures in Los Angeles were forecast to reach as high as 89 degrees Fahrenheit (32 Celsius), 5 more than average, on Wednesday, according to AccuWeather Inc. in State College, Pennsylvania.
"Prices across the region are expected to be elevated," Chris DaCosta, a Boston-based power market analyst for Genscape Inc. who tracks real-time data in the California ISO, said by e-mail Wednesday. "We're in the mid $50s for our base case but there is a ton of upside on that number."
Before it's here, it's on the Bloomberg Terminal.
LEARN MORE