Treasuries Traders Bypass Fed, Look to Tokyo for Bond Guidance
Fed meeting ends Wednesday; BOJ to announce policy Friday

Abe says stimulus will be more than 28 trillion yen: Kyodo
Before most Federal Reserve meetings, Treasury traders spend days poring over U.S. data for clues on how officials will lean. This time the bigger story is the Bank of Japan.
The BOJ has become more relevant to some U.S. traders than their own central bank as a Bloomberg survey of economists projects Governor Haruhiko Kuroda will expand his record stimulus program Friday. Japan's negative-interest-rate policy and bond purchases known as quantitative easing have sent most yields below zero, driving a rush for U.S. debt. The Fed will keep its benchmark rate unchanged after its meeting ends Wednesday, another survey shows.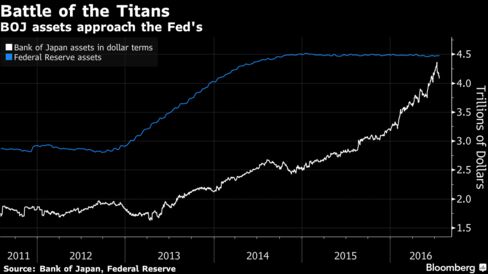 "I would argue that the BOJ this week is much more important than the Fed," said Aaron Kohli, a fixed-income strategist in New York at BMO Capital Markets Corp., one of the 23 primary dealers that trade with U.S. central bank. "Traditionally, the response to QE has been to see yields sell off," he said. If that happens in Japan, "Treasuries will probably rally as well."
The U.S. 10-year note yield fell two basis points, or 0.02 percentage point, to 1.54 percent as of 12:02 p.m. in New York, according to Bloomberg Bond Trader data. The price of the 1.625 percent security due in May 2026 was 100 25/32.
Policy Divergence
The Fed's latest projections issued in June are for higher interest rates this year, and some of the most recent economic data, including on jobs and retail sales, have been stronger than economists forecast. The policy divergence with the BOJ drove Japan's purchases of overseas debt to a record this month, helping send the benchmark 10-year Treasury yield to an all-time low of 1.32 percent on July 6.
For more on the outlook for the Bank of Japan, click here.
Central-bank stimulus may also hold some risk for bonds, said Mark Cabana, a New York-based interest-rate strategist at Bank of America Corp.'s Merrill Lynch unit.
"While further BOJ easing could marginally decrease yields, if that is coupled with fiscal stimulus, that could serve to shift market expectations for higher growth globally," Cabana said. "That could potentially help support inflation expectations."
Japan's Prime Minister Shinzo Abe said the size of an economic stimulus package to be compiled next week will more than 28 trillion yen ($265 billion), Kyodo News reported. Abe spoke in the southern city of Fukuoka on Wednesday. The nation's two-year yield fell to a record minus 0.37 percent.
The Fed meeting may be a "non-event," said Yusuke Ito, the senior investor in Tokyo at Mizuho Asset Management, which oversees $47.4 billion. "On the BOJ side, there's a large possibility that they do something. The chances for investors in Japan to find attractive opportunities are slimmer and slimmer. We have to find attractive investment opportunities abroad."
(A previous version of this article corrected the day of the Fed decision in the second paragraph.)
Before it's here, it's on the Bloomberg Terminal.
LEARN MORE