Vivendi Backs Out of Deal to Buy Berlusconi's Pay-TV Unit
Vivendi wants 20% of Mediaset Premium instead of full control

Mediaset CFO says Vivendi's target may be control of Mediaset
Vivendi SA pulled out of a deal to buy all of Mediaset SpA's pay-TV unit, triggering a share sell-off at former Italian premier Silvio Berlusconi's company, which accused the French media group of plotting a takeover.
Vivendi, which had agreed in April to buy full control of Mediaset Premium as part of a broader alliance that involved a 3.5 percent stake swap between the two companies, now proposes to purchase just 20 percent of the pay-TV unit, and to increase its stake in Mediaset to 15 percent in three years with a mandatory convertible bond, Mediaset said in a statement Tuesday.
"Vivendi's new position comes absolutely out of the blue and was not agreed in any way," the Milan-based media company said. Mediaset said Vivendi's position "represents a clear contradiction with the commitments made by Vivendi in the contract signed on April 8." Vivendi's CEO informed Mediaset July 25 that the company doesn't intend to honor the April agreement.
Mediaset, Italy's biggest commercial TV broadcaster, had considered a sale or a partnership for Mediaset Premium because competition from Rupert Murdoch's Sky Plc is hurting subscriber growth in Italy. Silvio Berlusconi, Mediaset's founder and a former prime minister, is a longtime friend of Vivendi Chairman Vincent Bollore.
Vivendi said in a statement that it submitted a new proposal because of "significant differences" with Mediaset in analyzing the pay-TV unit's results, concerns the French company said it first raised in June. Vivendi said it's still interested in building a strategic alliance.
Mediaset, now led by the founder's son, Chief Executive Officer Pier Silvio Berlusconi, responded that the analysis of Premium's performance was done before reaching the deal in April and that there aren't talks currently with Vivendi.
Mediaset shares were on track to drop to their lowest since February. They fell as much as 15 percent in Milan, and were trading at 2.90 euros, down 10 percent, at 1:09 p.m. local time.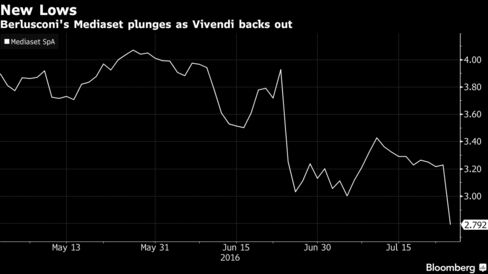 "We are shocked," Mediaset Chief Financial Officer Marco Giordani said in an interview. "Vivendi's decision not to respect a binding agreement is disconcerting unless this was their plan from the beginning: not an industrial alliance but getting control of Mediaset."
Silvio Berlusconi's holding company Fininvest SpA reinforced Giordani's commments in a statement saying Vivendi's real plan was to increase its influence on parent company Mediaset SpA.
Mediaset's board will take an official position July 28 on Vivendi's action.
Vivendi is confident about reaching an agreement with Mediaset and denied that it's planning to take control, CEO Arnaud De Puyfontaine told reporters in Milan.
The French company, which is Telecom Italia's largest shareholder with a 25 percent stake, has "no preconception" about a potential tie-up between Mediaset and Telecom Italia, he said. While there are no talks under way, De Puyfontaine said he's keeping an open mind because "it's a global trend that content distributors and content providers are closer and closer."
Before it's here, it's on the Bloomberg Terminal.
LEARN MORE